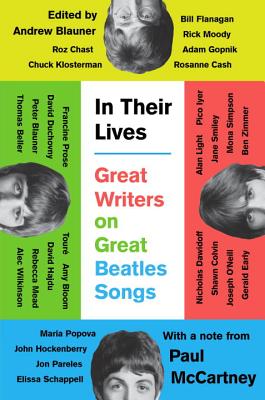 Fort Greene store:
Thursday, June 15, 7:30 PM
In Their Lives: Great Writers on Great Beatles Songs
Featuring Andrew Blauner, Touré, Elissa Schappell and Rebecca Mead
In Their Lives: Great Writers on Great Beatles Songs presents essays from a chorus of twenty-nine luminaries singing the praises of their favorite Beatles songs. Arranged chronologically by the date of the song's release, and including a note from Paul McCartney, these essays highlight both the Beatles' evolution as well as the span of generations their music affected. From Beatlemaniacs who grew up listening to the iconic albums on vinyl to new fans who download the songs on iTunes, each contributor explores a poignant intersection between Beatles history and personal history. Editor Andrew Blauner hosts readings by distinguished authors who have contributed to the anthology, including Touré (I Would Die 4 U: Why Prince Became an Icon), Elissa Schappell (Blueprints for Building Better Girls), and Rebecca Mead (My Life in Middlemarch) read from their essays, and discuss the Beatles' legacy and impact, culturally, historically, and individually.
Event date:
Thursday, June 15, 2017 - 7:30pm

$23.00
Email orders@greenlightbookstore.com for information about this item.
ISBN: 9780735210691
Published: Blue Rider Press - May 23rd, 2017
---