Live via Zoom:
Saturday, September 18, 11:30 AM ET
Story Time: Robin Newman presents Don't Call Me Fuzzybutt!
Children's book author Robin Newman joins Greenlight for a virtual story time featuring her new picture book, Don't Call Me Fuzzybutt! Bear has a problem—it's time to hibernate, and he's a light sleeper. Woodpecker also has a problem—he needs to rebuild his perfect home, and that means a lot of noise. Angry and frustrated, two friends become foes! Insults are hurled, and the rest of the forest can only watch in sympathy as Woodpecker and Bear each begin to cry. Can a pesky "featherbutt" and "fuzzybutt" overcome their differences and apologize, or will this be the end of their friendship? With plenty of humor and action, this book teaches readers that sometimes we have to work through arguments, even if it's scary and uncomfortable to do so. Join Newman for a Saturday story time that makes social emotional learning fun! Ages 3 to 8.
Event date:
Saturday, September 18, 2021 - 11:30am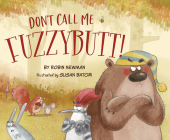 $16.99

ISBN: 9781534110731
Availability: Available In Store Now (while supplies last)
Published: Sleeping Bear Press - March 15th, 2021
Bear is tired. The weather is getting cool and he's ready for a nice long nap--he's got earmuffs and a brand-new door to keep out the noise, plus a pair of fluffy slippers. Meanwhile, real estate mogul Woodpecker finds his recent homes...missing. And he follows the trail of debris right to Bear's new front door. When he "tap tap taps" to talk to Bear about it, the two engage in a feisty exchange of name-calling and gossip with the rest of their forest neighbors. Can they patch it up--literally--before Bear loses too much sleep?
---