IN-PERSON: Live on Fulton St!
Saturday, November 5, 11:30 AM ET
Story Time with Elliot Kreloff!
Featuring Once Upon a Line
"Once upon a time, a line was drawn." So begins the journey of Line, a small drawing asking some big questions. Who is he? What should he do? Where does he fit in? On a voyage of self-discovery that takes him from the east to the west, from the mountains to the sea, Line tries on many shapes and sizes, often with hilarious consequences. But can Line find his true purpose without losing hope? Local author Elliot Kreloff joins us for a special Story Time to share Once Upon a Line, a little book that asks the biggest of questions in the simplest of forms.
Event date:
Saturday, November 5, 2022 - 11:30am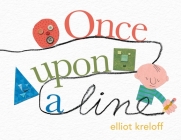 $17.95

ISBN: 9781685550042
Availability: Available In Store Now (while supplies last)
Published: The Collective Book Studio - October 11th, 2022
---

$17.99

ISBN: 9780823441051
Availability: Available In Store Now (while supplies last)
Published: Holiday House - September 10th, 2019
---

$18.99

ISBN: 9780823448913
Availability: Available In Store Now (while supplies last)
Published: Holiday House - May 25th, 2021
---