Prospect Lefferts Gardens store:
Saturday, February 24, 1:30 PM
Story Time: Drag Queen Story Hour presents How Mamas Love Their Babies
Greenlight is thrilled to welcome back The Feminist Press and Drag Queen Story Hour for a very special story time! Inspired by RADAR Productions' popular series in San Francisco, Drag Queen Story Hour captures the imagination and play of the gender fluidity of childhood and gives kids glamorous, positive, and unabashedly queer role models, as they read stories to children in libraries, schools, and bookstores. Today's story hour celebrates the release How Mamas Love Their Babies, the first book to depict a sex-worker parent. Illustrating the myriad ways that mothers provide for their children--piloting airplanes, washing floors, or dancing at a strip club—it provides an expanded notion of working mothers and challenges the idea that only some jobs result in good parenting. We're reminded that, while every mama's work looks different, every mama works to make their baby's world better. Join us for a one-of-a-kind story time! Ages 3 to 8.
Event date:
Saturday, February 24, 2018 - 1:30pm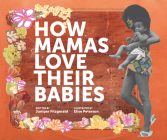 $16.95

ISBN: 9781936932009
Availability: Available In Store Now (while supplies last)
Published: Feminist Press - February 13th, 2018
---