Live via Zoom:
Saturday, February 13, 11:30 AM ET
Story Time and Roller-Skating Collage Workshop:
Anastasia Higginbotham presents What You Don't Know: A Story of Liberated Childhood
Anastasia Higginbotham, author of the Ordinary Terrible Things series, joins Greenlight (virtually!) to share her new book, What You Don't Know. The book delves into queerness, Blackness, and the love that dismantles whiteness. It's a book about knowing deeply that you matter—always did, always will. It's a book about what schools get wrong and churches don't say; but institutions are made by people and the people are evolving. It's a book about being known and cherished by family, and living in communion with your own personal Jesus, Buddha, Spirit, Source, Father, Mother, God, breath, inner space, outer space, nothingness, and however else we name and relate to our divinity and humility in the presence of all we don't know. Higginbotham leads attendees in her Roller-Skating Party Collage Workshop at this affirming and liberating story time! Ages 8 & up.
Suggested collage supplies:
Pens and pencils
Scissors
Glue stick
Squares or rectangles of plain brown grocery bag (or flattened out packing paper or construction paper) for creating faces, bodies, and hands
Images from magazines and catalogs to make clothes, hair, jewelry, hats, shoes, skates, wheelchairs, and assistive devices. Nothing has to be like it is in real life. Your people can have wings and tails, dress in actual flowers, have hair made of fire! Animals can skate!
Event date:
Saturday, February 13, 2021 - 11:30am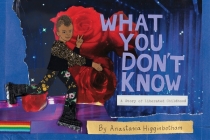 $19.95
ISBN: 9781948340298
Availability: Available In Store Now (while supplies last)
Published: Dottir Press - January 26th, 2021
---