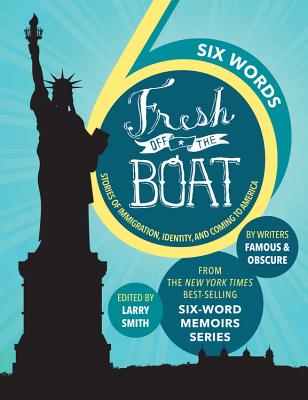 Fort Greene store:
Monday, September 18, 7:30 PM
Six Words Fresh Off the Boat: Stories of Immigration, Identity, and Coming to America
Hosted by Six-Word Memoirs creator and editor Larry Smith
Video, readings by contributors, and Six-Word Slam
Wine reception to follow
Greenlight welcomes Larry Smith, creator of the Six-Word Memoir project, back to Brooklyn to celebrate his newest anthology, celebrating the stories and voices of immigrants. Six Words Fresh Off the Boat captures hundreds of memoirs on the experience of immigration from across America, spanning cultures and generations . With contributors including Aziz Ansari ("Every immigrant's journey is truly incredible."), Junot Diaz ("We immigrants are America's true superpower.") and George Takei ("Even after internment, still love America."), as well as the cast and creative team of the ABC series Fresh Off the Boat and dozens of refugees, students, soldiers, athletes, and others, the collection paints a powerful portrait of who we are as a country, and where we came from. Larry Smith hosts an evening celebrating the new book including video, readings and backstories by contributors, and a Six-Word Slam for audience participation!
Event date:
Monday, September 18, 2017 - 7:30pm

$15.99
Email or call for price.
ISBN: 9781368008389
Published: Kingswell - September 5th, 2017
---