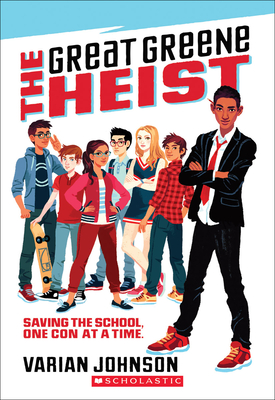 Prospect Lefferts Gardens store:
Wednesday, March 22, 5:30 PM PLG
Young Readers Book Group discusses The Great Greene Heist
Led by Greenlight receiving manager Grace, our young readers book group in Prospect Lefferts Gardens is geared toward kids ages 9 to 12, and reads great contemporary and classic chapter books. Parents are welcome (but not required) to attend, and pizza is served. For March, the group discusses The Great Greene Heist by Varian Johnson. Jackson Greene swears he's given up scheming. Then school bully Keith Sinclair announces he's running for Student Council president, against Jackson's former friend Gaby de la Cruz. Gaby wants Jackson to stay out of it -- but he knows Keith has "connections" to the principal, which could win him the presidency no matter the vote count. So Jackson assembles a crack team: Hashemi Larijani, tech genius. Victor Cho, bankroll. Megan Feldman, science goddess. Charlie de la Cruz, reporter. Together they devise a plan that will take down Keith, win Gaby's respect, and make sure the election is done right. If they can pull it off, it will be remembered as the school's greatest con ever -- one worthy of the name THE GREAT GREENE HEIST.
Current book group picks are always 15% off at Greenlight, in the store or online.
Event date:
Wednesday, March 22, 2017 - 5:30pm

$6.99
ISBN: 9780545525534
Availability: On Our Shelves Now
Published: Arthur A. Levine Books - April 28th, 2015
---