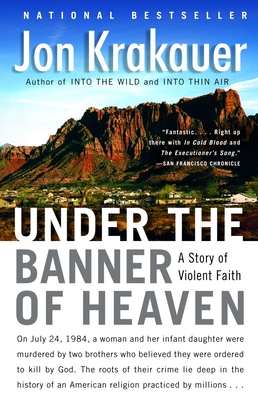 Prospect Lefferts Gardens store:
Wednesday, November 8, 7:30 PM
PLG Nonfiction Book Group discusses Under the Banner of Heaven: A Story of Violent Faith
Led by PLG store manager Geo, our nonfiction book group in Prospect Lefferts Gardens reads and discusses the most fascinating topics in nonfiction, both classic and contemporary, with seasonal themes covering a variety of genres. For November, the group discusses Under the Banner of Heaven by Jon Krakauer. In his extraordinary work of investigative journalism Krakauer uncovers the true story of an appalling double murder committed by two Mormon Fundamentalist brothers who insist God commanded them to kill. Beginning with a meticulously researched account of this appalling double murder, Krakauer constructs a multi-layered, bone-chilling narrative of messianic delusion, polygamy, savage violence, and unyielding faith. Along the way he uncovers a shadowy offshoot of America's fastest growing religion, and raises provocative questions about the nature of religious belief.
Current book group picks are always 15% off at Greenlight, in the store or online.
Event date:
Wednesday, November 8, 2017 - 7:30pm

$16.95
ISBN: 9781400032808
Availability: On Our Shelves Now
Published: Anchor Books - June 8th, 2004
---