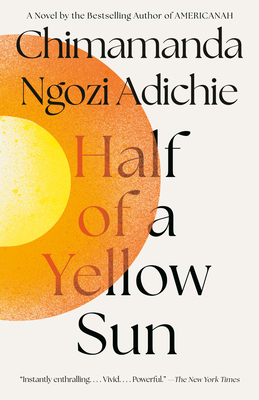 **RESCHEDULED FROM 3/21**
Prospect Lefferts Gardens store:
Wednesday, March 28, 7:30 PM
PLG Fiction Book Group discusses Half of a Yellow Sun
Led by Greenlight general manager Alexis, our fiction book group in Prospect Lefferts Gardens discusses paperback fiction, reading broadly in contemporary fiction with the occasional diversion into classics. For March, the group reads Half of a Yellow Sun. With effortless grace, celebrated author Chimamanda Ngozi Adichie illuminates a seminal moment in modern African history: Biafra's impassioned struggle to establish an independent republic in southeastern Nigeria during the late 1960s. We experience this tumultuous decade alongside five unforgettable characters: Ugwu, a thirteen-year-old houseboy who works for Odenigbo, a university professor full of revolutionary zeal; Olanna, the professor's beautiful young mistress who has abandoned her life in Lagos for a dusty town and her lover's charm; and Richard, a shy young Englishman infatuated with Olanna's willful twin sister Kainene. Half of a Yellow Sun is a tremendously evocative novel of the promise, hope, and disappointment of the Biafran war.
Current book group picks are always 15% off at Greenlight, in the store or online.
Event date:
Wednesday, March 28, 2018 - 7:30pm

$16.95

ISBN: 9781400095209
Availability: Available In Store Now (while supplies last)
Published: Anchor - September 4th, 2007
---