Live via Zoom:
Sunday, November 15, 4:00 PM
Panel Discussion: Radical Children's Literature
Featuring creators Jacob Kramer and K-Fai Steele
With literary scholars Philip Nel and Julia Mickenberg
Hosted by Enchanted Lion Books and Greenlight Bookstore
Join author Jacob Kramer and illustrator K-Fai Steele, the team behind Noodlephant and Okapi Tale, and children's literature scholars Philip Nel and Julia Mickenberg, as they discuss radical leftist politics, children's books, and the many surprising ways in which the two intersect throughout the history of children's literature!
Noodlephant, and its sequel, Okapi Tale, are thoughtful picture-book primers on concepts like socialism, capitalism, protest and activism.
In Noodlephant, the eponymous pasta-loving elephant loves to gather with her friends at her potluck parties, but the kangaroos are determined to rule over her town with unjust laws, outlawing noodles for anyone but themselves. This won't stand! Noodlephant and her friends rally to fight this injustice and return pasta to the people (or, in this case, animals).
In Okapi Tale, Noodlephant leaves Beaston (formerly Rooville) and goes abroad to further her culinary education. While she's gone, the greedy Okapi(talist) comes to town, with nefarious plans to take all that is public and shared amongst the citizens of Beaston, and own it for himself! Will Noodlephant return in time to rise up and take back what belongs to the community?
Event date:
Sunday, November 15, 2020 - 4:00pm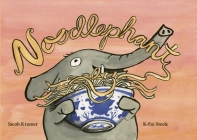 $18.95

ISBN: 9781592702664
Availability: Not In Store / Available To Order (allow for shipping time to bookstore or direct-to-home)
Published: Enchanted Lion Books - February 12th, 2019
---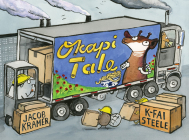 $18.95

ISBN: 9781592703043
Availability: Not In Store / Available To Order (allow for shipping time to bookstore or direct-to-home)
Published: Enchanted Lion Books - October 6th, 2020
---