Monday, May 11, 7:30 PM
Jonathan Fetter-Vorm and Ari Kelman present Battle Lines: A Graphic History of the Civil War
In conversation with Josh Neufeld
The graphic novelist Jonathan Fetter-Vorm and the award-winning historian Ari Kelman team up to create a unique portrait of a brutal and defining event in American history: the Civil War. The result is Battle Lines, a monumental graphic history—rendered in Fetter-Vorm's sweeping full-color panoramas, and grounded in Kelman's nuanced understanding of the period—offering a series of wholly new perspectives on the conflict that turned this nation against itself. The creators discuss their work with acclaimed graphic novelist Josh Neufeld (author of A.D. New Orleans After the Deluge), accompanied by images from Battle Lines on our big screen.
Event date:
Monday, May 11, 2015 - 7:30pm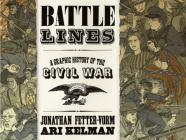 $35.00
Email orders@greenlightbookstore.com for information about this item.
ISBN: 9780809094745
Published: Hill and Wang - May 5th, 2015
---