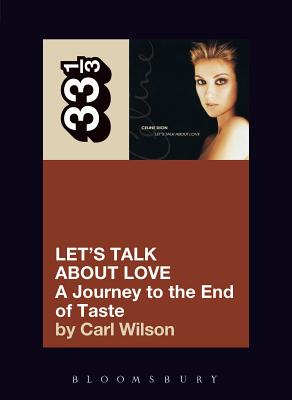 Offsite:
Tuesday, February 13, 7:30 PM
Fort Greene Nonfiction Book Group discusses Let's Talk about Love: A Journey to the End of Taste
At Greene Grape Annex
Led by Greenlight bookseller Nick, our nonfiction book group in Fort Greene reads and discusses the most fascinating topics in nonfiction, both classic and contemporary, with seasonal themes covering a variety of genres. For February, the group reads and discusses Carl Wilson's 33 1/3 classic, Let's Talk about Love. Non-fans regard Celine Dion as ersatz and plastic, yet to those who love her, no one could be more real, with her impoverished childhood, her (creepy) manager-husband's struggle with cancer, her knack for howling out raw emotion. There's nothing cool about Celine Dion, and nothing clever. That's part of her appeal as an object of love or hatred -- with most critics and committed music fans taking pleasure (or at least geeky solace) in their lofty contempt. This book documents Carl Wilson's brave and unprecedented year-long quest to find his inner Celine Dion fan, and explores how we define ourselves in the light of what we call good and bad, what we love and what we hate.
Greene Grape Annex is located at 753 Fulton St, across the street from the bookstore. Current book group picks are always 15% off at Greenlight, in the store or online.
Event date:
Tuesday, February 13, 2018 - 7:30pm

$14.95

ISBN: 9780826427885
Availability: Available In Store Now (while supplies last)
Published: Continuum - November 1st, 2007
---