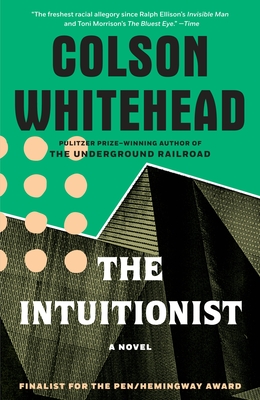 Offsite:
Tuesday, March 20, 7:30 PM
Fort Greene Fiction Book Group discusses The Intuitionist
At Greene Grape Annex
Led by Greenlight general manager Alexis, our fiction book group in Fort Greene discusses paperback fiction, reading broadly in contemporary fiction with the occasional diversion into classics. For March, the group reads and discusses The Intuitionist, the debut novel but Pulitzer Prize-winning author of The Underground Railroad, Colson Whitehead. It is a time of calamity in a major metropolitan city's Department of Elevator Inspectors, and Lila Mae Watson, the first black female elevator inspector in the history of the department, is at the center of it. There are two warring factions within the department: the Empiricists, who work by the book and dutifully check for striations on the winch cable and such; and the Intuitionists, who are simply able to enter the elevator cab in question, meditate, and intuit any defects. This marvelously inventive, genre-bending, noir-inflected novel, portrays a universe parallel to our own, where matters of morality, politics, and race reveal unexpected ironies.
Greene Grape Annex is located at 753 Fulton St, across the street from the bookstore.
Current book group picks are always 15% off at Greenlight, in the store or online.
Event date:
Tuesday, March 20, 2018 - 7:30pm

$16.00

ISBN: 9780385493000
Availability: Available In Store Now (while supplies last)
Published: Anchor - January 4th, 2000
---