Container Gardening: Why You Don't Need a Yard to Grow Vegetables and Herbs at Home, Plus 17 Brilliant Free Gardening Hacks to Become Self (Paperback)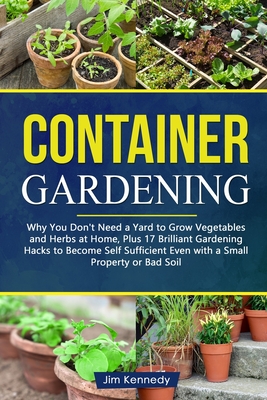 $14.95
Email orders@greenlightbookstore.com for information about this item.
Description
---
How to Grow Fruits and Vegetables Your Whole Family Loves Even...
If You Don't Have a Big Yard Or Massive Financial Resources To Do It
Are you looking for ways to provide healthy, fresh foods for your family but don't want to spend a fortune on it?
Do you have a small apartment balcony, patio, or just not enough of the right environment to grow your plants?
Or maybe you just want to increase the amount of inground space you have by doing something different?

If you answered 'Yes' to at least one of these questions, please read on...

I've always had a dream to have a massive garden with plenty of fruits and vegetables there, so my kids and I can go there every morning and eat them straight from the tree.

But no matter how bad I wanted that, it just wasn't possible about 8 years ago. There just weren't enough resources to buy something like that.

And whatever your reason is, I want you to know that even if you also don't have that massive backyard or garden to grow your lovely plants, that can't stop you from serving your family and enjoy this hobby.

I will teach you how to grow just about any plant you can think of, even if you live on the 9th floor with a small balcony in the most cost-effective way.
Take a look at what's inside:
- What can you expect from container gardening, and why is it as good as regular?
- 11 things every container gardener has to know before starting
- How to pick up the right pots at a fair price for your favorite plants? (size and materials matter )
- How to design your containers and make your neighbors jealous?
- How to avoid pests and diseases while maintaining your fruits and veggies just as delicious?
- 17 Container Gardening Hacks that will save your time, money, and room space
- Want To Enjoy Herb Benefits? Here are over 30 herbs with step-by-step growing instructions
- Much much more...

Remember, you don't have to be a professional gardener or have a garden to enjoy all the 'plant-benefits' you will get. Just take this book and implement what you'll read
So don't wait, scroll up, click on
'BUY NOW'
and Start Growing Your Favorite Plant-Foods From Your Home, Patio, Or Where Ever You Want.