Asian Cookbook For Beginners: 3 Books In 1: Over 300 Recipes For Cooking Chinese, Thai And Japanese Food To Perfection At Home (Paperback)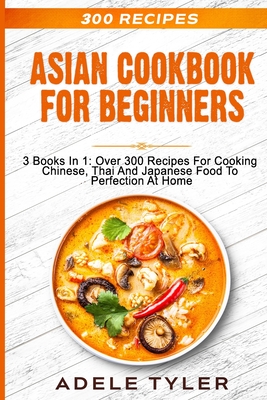 $19.99

Not In Store / Available To Order (allow for shipping time to bookstore or direct-to-home)
Description
---
Do you want to learn how to cook Asian recipes at home?In this 3 books in 1 edition, Adele Tyler has collected over 300 asian recipes easily done at home for amazing tasty dishes.
Are you ready to learn how to cook Japanese, Chinese and Thai cuisines at home?
In the first book, Japanese Cookbook for Beginners, you will learn everything you need to know about Japanese food.
Sushi. Sashimi. Ramen. Okonomiyaki. Onigiri. Tempura.
Can you feel the vibe that these dishes have? Can you imagine the round, tasty, mouthwatering flavors irradiating into your stomach?
In Japanese Cookbook you will find several recipes for everything from breakfast to dinner, the most amazing miso soups, crunchy tempura shrimps and grilled yakitori.
You will also learn the basics for the best comfort food in the history of humankind: the most amazing ramen, with noodles, pork or even vegetarian.
In Japanese Home Cooking you will learn:
How to cook Japanese food at home
How to prepare sushi at home
How to slice a perfect sashimi or fry a crunchy tempura
Comfort food: ramen and more
Bento and bowls
In the second book, Chinese Home Cooking, you will discover spicy modern and traditional recipes from China.
In this cookbook you will learn how to cook at home the most famous Chinese recipes, easily preparing meals and dinners for your friends, parties and kids using the best ingredients and elevating the flavors with both gentle and strong spices from China.
Despite Chinese food is known mostly for dishes like Baozi, Dumplings and Szechuan Chicken, the variety of this millenarian food tradition goes way beyond the all time classics. In this book you will explore the depth of the Chinese food history, getting to know tasteful mouthwatering recipes to spice up your meals.bb
In Chinese Home Cooking you will learn:
Over 100 recipes for modern and classic Chinese dishes
A chapter dedicated to Chinese vegetarian meal prep
Tips to dose spices in the right way and tricks with ingredients you might not know yet
In the third book, Thai Cookbook at Home, you will learn the secrets of Thai food.

Chicken. Shrimps. Curry and rice. Thai food is simple, yet delicious. The trick is selecting the right ingredients, that can be easily found at the local grocery store, and cook them to the perfect, respecting the processes and temperatures.
Asian food in general rely strongly on spices and soups, that can be served both cold during summer or hot, as the most amazing comfort food, during cold weather. Thailand cuisine is a 365 degree experience, starting from the soups, noodles and rice for perfect entree, to more complex dishes with proteins such as beef, pork and fish.
In Thai Cookbook for beginners you will learn:
Over 100 recipes for cooking Thai dishes tot perfection
Chapters dedicated to vegetarian Thai food recipes
How to prepare the most famous Thai dishes such as coconut milk soup, khao man gai (chicken rice), tom yam (hot and sour broth soup) and thai papaya salad
Scroll up, click on buy it now and get your copy today.