No Knives in the Kitchens of This City (Hoopoe Fiction) (Paperback)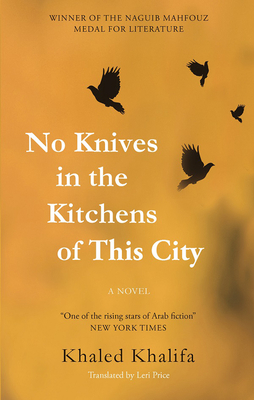 $17.95
Available to order (allow for shipping time to bookstore or direct-to-home)
Make no mistake, you will cry. Or at the very least be moved by the story of a single Syrian family in Assad-ruled Aleppo. It's wrought with passion and hope. The writing is eloquent, crystal clear, and harrowing in that it attaches itself to you for all 240 pages and then some. Time does what it wants in this book, and what it wants is to come back to the beginning and make characters and readers reflect on memory and the weight of the past. This crushing read is required for anyone looking to better understand Syria's current state. I first read this book 3 years ago and it has remained a consistent favorite of mine. Seriously, look no further.
Picked by Ikwo in Prospect Lefferts Gardens
Description
---
In the once beautiful city of Aleppo, one Syrian family descends into tragedy and ruin. Irrepressible Sawsan flirts with militias, the ruling party, and finally religion, seeking but never finding salvation. She and her siblings and mother are slowly choked in violence and decay, as their lives are plundered by a brutal regime. Set between the 1960s and 2000s, No Knives in the Kitchens of this City unravels the systems of fear and control under Assad. With eloquence and startling honesty, it speaks of the persecution of a whole society.
About the Author
---
Khaled Khalifa was born in 1964 in a village close to Aleppo, Syria. He is the author of several novels, including most recently, Death Is Hard Work, shortlisted for the 2019 National Book Award for Translated Literature. No Knives in the Kitchens of This City was awarded the Naguib Mahfouz Medal for Literature in 2013, was shortlisted for the International Prize for Arabic Fiction in 2014, and was shortlisted for the American Literary Translators Association's National Translation Awards in the prose category in 2017. He lives in Damascus, a city he has refused to abandon despite the danger posed by the ongoing Syrian civil war. Leri Price is an independent Arabic-English translator who studied at the University of Edinburgh. She is the translator of Khaled Khalifa's In Praise of Hatred and Death Is Hard Work, as well as literature from Egypt, Libya, Tunisia, Syria, and Saudi Arabia including Sarab by Raja Alem (Hoopoe, 2018.)