Por Qua Fracasan Los Paases (Paperback)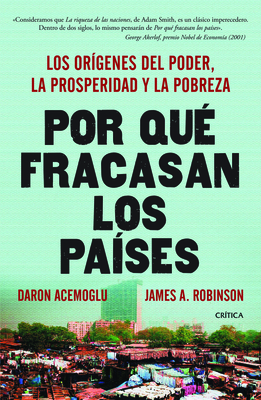 Email or call us for information about purchasing this item.
Description
---
Que determina que un pais sea rico o pobre? Como se explica que, en condiciones similares, en algunos paises haya hambrunas y en otros no? Que papel tiene la politica en estas cuestiones? Que algunas naciones sean mas prosperas que otras, se debe a cuestiones culturales?, a los efectos de la climatologia?, a su ubicacion geografica? No, en absoluto. Ninguna cuestion relativa a la prosperidad de un pais esta relacionada con estos factores, sino que proviene de otro mucho mas tangible: la politica economica que dictaminan sus dirigentes. Son los lideres de cada pais, afirman los reconocidos profesores Daron Acemoglu y James A. Robinson en este libro, quienes determinan con sus politicas la prosperidad de su territorio, y asi ha ocurrido en todos los periodos de la historia, como demuestran en este apasionante estudio.
About the Author
---
Daron Acemoglu es profesor de Economia en el Massachusetts Institute of Technology (MIT) y ha recibido la prestigiosa medalla John Bates Clark, que reconoce a los economistas que en mayor medida han contribuido al avance de la ciencia y de la investigacion. James A. Robinson es politologo, economista y profesor en la Universidad de Harvard. Experto en politica y economia latinoamericana y africana, es considerado uno de los mas destacados especialistas en estos campos. Ambos son autores de Economic Origins of Dictatorship and Democracy, libro galardonado con numerosos premios internacionales.