Michelin Green Guide New York City: Travel Guide (Paperback)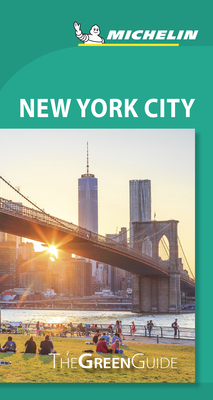 $20.95
Email or call for price.
Description
---
Uncover the best of the city from Manhattan to Brooklyn with the updated Michelin Green Guide New York City. Gateway to the United States, international diplomatic center, cultural mecca, financial powerhouse, fashion and foodie capital--this is New York, a 320 square-mile metropolis. Explore the city's world-famous buildings, museums, landmarks and neighborhoods. Through its star-rating system, multiple walking tours, well-researched places to eat and stay, colorful maps and suggested activities, the guide helps you enjoy all that New York City has to offer. Updated edition with full-color photos and the detail travelers look for.Attractions reviewed and rated using Michelin's celebrated star-rating system, such as the 2-star Guggenheim Museum in its iconic Frank Lloyd Wright-designed building and the 3-star Bronx Zoo exhibiting more than 4,000 creatures.Walk-throughs of major museums, galleries, churches and attractions so you don't miss a thing; includes illustrations and floor plans for the highlights of major attractions.Set off on one of the multiple walking tours for a more personal experience of New York's neighborhoods. Michelin walking and driving tours give clear directions accompanied by easy-to-follow maps to keep you on track.Comprehensive illustrated sections on modern New York City, art, history and culture, all written by experts in their fields.Sidebars throughout the guide focus on a range of diverse topics such as biking in the City and the East Village's popular indie book shops.Detailed visitor information given for attractions, opening hours, entry fees, tour times, phone, website. Michelin area and city maps.Practical information includes great places to eat and stay for a variety of budgets, as well as public transportation.Michelin Green Guides feature comprehensive, concise travel information for advance trip planning as well as spontaneous decisions during the visit.For more on New York City, rely on the MICHELIN Guide New York City for carefully researched, objective recommendations to great restaurants. Anonymous inspectors use the famed Michelin star-rating system to create an extensive selection of great places to eat for all budgets. Descriptive symbols and an English legend tell you all you need to know (minimal text is in the language of the country.) The recommendations and helpful maps in this annual update lead to an unforgettable travel experience. Our famous one, two and three stars identify establishments serving the highest quality cuisine - taking into account the quality of ingredients, the mastery of technique and flavors, the levels of creativity and, of course, consistency. In addition, the Bib Gourmand symbol (also known as the inspectors' favorites) highlights restaurants offering good quality at a good value. Also available for New York City are the: Michelin Green Guide New York City Short StaysMichelin New York City Map & GuideMichelin's Laminated New York City MapMichelin Manhattan Map No. 11.