Taboo Erotica: The Lesbian Series (Paperback)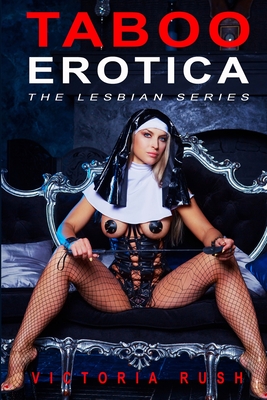 $22.99

Not In Store / Available To Order (allow for shipping time to bookstore or direct-to-home)
Description
---
When you know it's wrong but it feels so right...
Enjoy the complete taboo erotica series - now 50% off.
Book 1: The Habit
When Jade is working quietly at the library one day, she notices an unusual figure in a black and white cloak pass by her desk. She looks up and sees a pretty nun heading into the stacks to find a book. Jade follows her and when the nun sits in an upholstered chair in the corner of the library, she finds another chair not far away to watch her more closely.
She begins to get more and more aroused watching the stunning nun and starts to touch herself quietly. The nun notices what Jade is doing and begins to rub her legs together under her long gown. Within minutes, the two women enjoy an intense private climax together from across the aisle...
Book 2: The Exchange Student
When Jade decides to host a foreign exchange student during her final semester of high school, she gets more than she bargained for. Recently turned eighteen, Luna is smart, mature beyond her years, and drop-dead gorgeous.
While Luna settles into her studies at her new school, the two women find themselves growing increasingly attracted to one another. When they begin sharing nude hot tub baths together, the sexual chemistry between them threatens to boil over...
Book 3: The First Lady
When Jade bumps into an incognito First Lady during a political convention in town, the two strike up a conversation in her local coffee shop. After the First Lady hears about Jade's attempt to provide support for her husband's political campaign, she invites her to Washington to attend a gala event at the White House.
When the two women meet again at the gala, sparks begin to fly between them while they struggle to control their growing feelings for one another. During a break in the event, they excuse themselves from the proceedings and meet in the White House powder room, where they enjoy a brief but intense tryst...
Book 4: The Therapist
When Jade's sex therapist friend Hannah invites her to attend one of her private sessions, she's shocked at what she finds. Instead of merely talking through her clients' problems, she encourages them to actively explore their bodies while she helps them lose their inhibitions.
During the initial session, Jade hides in a secluded location while a young college coed touches herself behind a private screen. As she listens to Hannah guiding the girl through her process of self-discovery, she becomes increasingly aroused in the privacy of her broom closet...
Book 5: Too Close for Comfort
When Jade travels to Miami to visit her long-lost brother, she's surprised when his wife Gabriella takes her aside and confides that they haven't had sex in months. Hoping to take her mind off their marital troubles, Jade decides to take her shopping.
But while they're trying on new bikinis at the department store, one thing leads to another and they end up having a passionate tryst in the dressing room. After sharing a long heart-to-heart chat at the beach, Jade finds herself becoming more and more attracted to her sister-in-law.
When they return to Gabriella's home, they find it increasingly difficult to conceal their growing attachment to one another. When it's time for them to go to their separate bedrooms later in the evening, Gabby sneaks out in the middle of the night and slips under the covers with Jade...