Twilight of Democracy: The Seductive Lure of Authoritarianism (Paperback)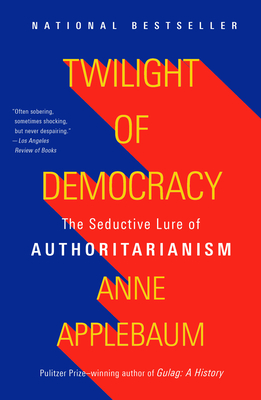 $17.00

Available In Store Now (while supplies last)
Staff Reviews
---
Do we take it for granted or is it just boredom? By "it" I mean democracy. Anne Applebaum's Twilight of Democracy traces within our expansive world's past and present the cyclical tendency of leadership to toss away morality and common sense, by embracing a base ignorance to consolidate power for perceived loyalty to their nationalistic ideals.   Or maybe it isn't a cyclical tendency of doing away with democracy, but it is always never ending with seemingly infinite cadre of options to create polarization especially with the advent of social media by "grown ups" in the room. I hope you will embrace this title as a time capsule of our current clusterf**k.
— Dante
Description
---
NATIONAL BESTSELLER • "How did our democracy go wrong? This extraordinary document ... is Applebaum's answer." —Timothy Snyder, author of On Tyranny

The Pulitzer Prize–winning historian explains, with electrifying clarity, why elites in democracies around the world are turning toward nationalism and authoritarianism.

From the United States and Britain to continental Europe and beyond, liberal democracy is under siege, while authoritarianism is on the rise. In Twilight of Democracy, Anne Applebaum, an award-winning historian of Soviet atrocities who was one of the first American journalists to raise an alarm about antidemocratic trends in the West, explains the lure of nationalism and autocracy. In this captivating essay, she contends that political systems with radically simple beliefs are inherently appealing, especially when they benefit the loyal to the exclusion of everyone else. Elegantly written and urgently argued, Twilight of Democracy is a brilliant dissection of a world-shaking shift and a stirring glimpse of the road back to democratic values.
About the Author
---
ANNE APPLEBAUM's 2018 Atlantic article "A Warning from Europe" inspired this book and was a finalist for a National Magazine Award. After seventeen years as a columnist at The Washington Post, Applebaum became a staff writer at The Atlantic in 2020. She is the author of three critically acclaimed and award-winning histories of the Soviet Union: Red Famine, Iron Curtain, and Gulag, winner of the Pulitzer Prize.
Praise For…
---
Named a BEST BOOK OF THE YEAR by The Washington Post and The Financial Times

"The book to buy for insight into what Trump's rise and rule really mean—here and abroad—for democracy in our time." —NPR

"How did our democracy go wrong? This extraordinary document . . . is Applebaum's answer." —Timothy Snyder, author of On Tyranny

"[Applebaum's] historical expertise and knowledge of contemporary Europe and the United States illuminate what is eternal and distinctive about the political perils facing us today. . . . Twilight of Democracy offers many lessons on the long-standing struggle between democracy and dictatorship. But perhaps the most important is how fragile democracy is: Its survival depends on choices made every day by elites and ordinary people." —The Washington Post

"Often sobering, sometimes shocking, but never despairing.  .  .  . One of the many welcome aspects to [this] book is its acknowledgment that democracy, like any other form of government, is not forever. It cannot be a machine that would go of itself; it is a machine that, instead, goes only as long as its users care for it." —Los Angeles Review of Books

"There is no single reason that liberal democracy is in such a precarious state, Applebaum notes.  Crisp, elegant prose." —The Christian Science Monitor

"Thought-provoking and gracefully written." —The American Interest

"If anyone is well placed to write about the global rise of authoritarian regimes and their polarization of society, it is Applebaum." —The Arts Fuse "An illuminating political memoir about the breakup of the political tribe that won the Cold War." —Literary Review (London)

"Engrossing.  .  .  . This is a political book; it is also intensely personal, and the more powerful for it." —The Guardian

"[Applebaum] deploys the roles of both historian and hostess to impressive effect. A penetrating work of ethnography, a novel study of the intellectual tribe to which the author belongs." —The Sunday Times (London)

"The risk of twilight of our western democratic model, the uncertainty of what may follow—a brighter dawn or a darker night—require that all warnings be urgently considered. This book demands such consideration." —The Irish Times

"Critically important for its muscular, oppositionist attack on the new right from within conservative ranks—and for the well-documented warning it embodies. [Applebaum's] views are especially welcome because she is a deliberate thinker and astute observer rather than just the latest pundit or politico. . . . A knowledgeable, rational, necessarily dark take on dark realities." —Kirkus Reviews (starred review)