Something New Under the Sun: A Novel (Hardcover)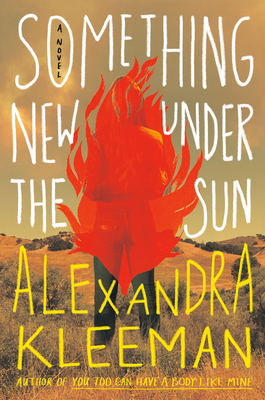 $28.00
Email orders@greenlightbookstore.com for information about this item.
Description
---
NEW YORK TIMES EDITORS' CHOICE • A novelist discovers the dark side of Hollywood and reckons with ambition, corruption, and environmental collapse in "a darkly satirical reflection of ecological reality" (Time)

LONGLISTED FOR THE JOYCE CAROL OATES PRIZE • ONE OF THE BEST BOOKS OF THE YEAR: The New York Times Book Review, Time, Los Angeles Times, The Philadelphia Inquirer, Vulture, Thrillist, Literary Hub

"An urgent novel about our very near future, and a deeply addictive pleasure."—Katie Kitamura, author of Intimacies

Novelist Patrick Hamlin has come to Los Angeles to oversee the film adaptation of one of his books and try to impress his wife and daughter back home with this last-ditch attempt at professional success. But California is not as he imagined. Drought, wildfire, and corporate corruption are everywhere, and the company behind a mysterious new brand of synthetic water seems to be at the root of it all. Patrick finds an unlikely partner in Cassidy Carter—the cynical starlet of his film—and the two investigate the sun-scorched city, where they discover the darker side of all that glitters in Hollywood.

Something New Under the Sun is an unmissable novel for our present moment—a bold exploration of environmental catastrophe in the age of alternative facts, and "a ghost story not of the past but of the near future" (The New York Times).
About the Author
---
Alexandra Kleeman is the author of Intimations, a short story collection, and the novel You Too Can Have a Body Like Mine, which was a New York Times Editor's Choice. Her fiction has been published in The New Yorker, The Paris Review, Zoetrope, Conjunctions, and Guernica, among other publications, and her other writing has appeared in Harper's, The New York Times Magazine, Vogue, Tin House, n+1, and The Guardian. Her work has received fellowships and support from Bread Loaf, the Djerassi Resident Artists Program, the Virginia Center for the Creative Arts, and the Headlands Center for the Arts. She is the winner of the Berlin Prize and the Bard Fiction Prize, and was a Rome Prize Literature Fellow at the American Academy in Rome. She lives in Staten Island and teaches at the New School.
Praise For…
---
"Kleeman is a visionary writer . . . She's also very funny. These two qualities are shown to great effect here, as she turns her attention to the movie business, our looming climate crisis, corporate malfeasance and the Disney child star system. It's a brilliant, ambitious book."—Refinery29

"With nods to Beckett and Stoppard, Kleeman juxtaposes fiery doom with passages of sharp, absurdist dialogue and a sprinkle of one-liners reminiscent of Fleabag."—Instyle

"The varieties of emergency—ecological, psychological, familial, medical—are the half-hidden subject of Kleeman's novel, burning at the periphery of what begins as a modishly detached rollick through Hollywood and its empty promises. . . . It is a ghost story not of the past but of the near future, a ghost story as alarm bell, one hard to leave in the realm of fiction."—The New York Times

"Kleeman's world is unsettled, but so is ours. And she leans into that unsettledness to create a world that is just a few notches more uncanny than our own, starkly making the absurdity of ours that much more clear."—Nylon

"Kleeman's great skill, and this novel's abiding triumph, is how seamlessly she blends the horrific with the mundanely troubling, the ridiculous—or the impossible—with the ordinarily absurd."—LA Review of Books

"Throughout, Kleeman writes expressively about place and the manifold ways our lives are shaped by our imperiled environment, foregrounding the slow-motion catastrophe of climate change and its attendant anxieties."—Vulture

"Because this is an Alexandra Kleeman novel, none of it goes where you think it's going to, but it's all so wildly entertaining and beautifully written that it really doesn't matter where you end up."—Literary Hub

"Written with tremendous verve and flair, Something New Under the Sun is both an urgent novel about our very near future and a deeply addictive pleasure. . . . Kleeman is a phenomenon, one of the most brilliant and gifted writers at work today."—Katie Kitamura

"Alexandra Kleeman expertly conjures California noir filtered through the ambient and not-so-ambient apocalypse."—Emma Cline

"A magnificent and stunning novel, by turns hilarious, satirical, moving, and so very, very much what we need in these uncertain times."–Jeff VanderMeer

"With this novel, Alexandra Kleeman confirms her place as one of the major writers of her generation. Reading it is like looking at a familiar room through warped glass: What you perceive is distorted and unsettling while remaining curiously beautiful."—Esmé Weijun Wang

"Something New Under the Sun is a richly rendered ecological novel, characterized not only by how it sets the landscape but also by the fact that the landscape is quite often allowed to run the show.  Kleeman is at her very best here. This is a book I'll be thinking about for years to come."—Kristen Arnett

"Readers will be captivated by this intelligent, rip-roaring story."—Publishers Weekly