Unmasked by the Marquess Lib/E: The Regency Imposters (Compact Disc)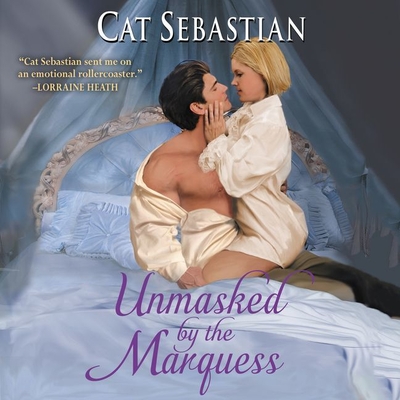 $59.99
Email orders@greenlightbookstore.com for information about this item.
Staff Reviews
---
I was GUTTED by this novel. Sebastian had me aching to see these two knuckleheads figure it out so they can be together. 
Alistair's father was terrible. The late marquess left his son with title in need of repairing. When Alistair is in the midst of restoring moral rectitude and financial solvency to his title when a young man approaches him, asking that he help the man's young sister enter into society in the hopes of securing a wealthy husband. Robert assures him that Alistair's late father promised to do as much before he expired. Alistair honors the promise, which brings him into the company of Robert more frequently. Affection blooms between the two young men which leads to Robert's secret being revealed: he is not a man in the way Alistair believes him to be. 
That's right, baby! This is a queer trans historical romance! The yearning, the distance, the tension! It was almost too much to bear! I love Robert and Alistair. I would kill anyone who dared threaten their happiness.
— Danni
Description
---
One of Library Journal's Best Romances of 2018
The one you love...
Robert Selby is determined to see his sister make an advantageous match. But he has two problems: the Selbys have no connections or money and Robert is really a housemaid named Charity Church. She's enjoyed every minute of her masquerade over the past six years, but she knows her pretense is nearing an end. Charity needs to see her beloved friend married well and then Robert Selby will disappear...forever.
May not be who you think...
Alistair, Marquess of Pembroke, has spent years repairing the estate ruined by his wastrel father, and nothing is more important than protecting his fortune and name. He shouldn't be so beguiled by the charming young man who shows up on his doorstep asking for favors. And he certainly shouldn't be thinking of all the disreputable things he'd like to do to the impertinent scamp.
But is who you need...
When Charity's true nature is revealed, Alistair knows he can't marry a scandalous woman in breeches, and Charity isn't about to lace herself into a corset and play a respectable miss. Can these stubborn souls learn to sacrifice what they've always wanted for a love that is more than they could have imagined?