Easy Beauty: A Memoir (Hardcover)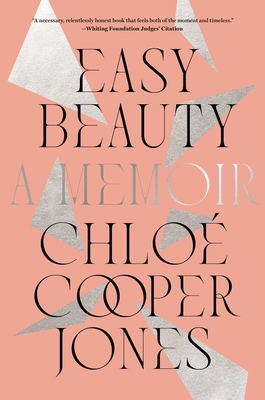 $28.00

Available In Store Now (while supplies last)
Greenlight is delighted to partner with Chloé Cooper Jones to offer a limited editon print featuring art by Robert Bingaman (while supplies last) with your order.
In order to secure a copy with a print, you MUST indicate in the Order Comments section at checkout that you'd like a limited edition art print.
---
From Chloe:
Easy Beauty considers the idea that the experience of art and aesthetic beauty—in paintings, sculptures, nature, performance, etc.—has a specific power to shift our consciousness, allowing us to be better and more present agents in our lives, in our families, and in our communities. I asked several artists if they would read Easy Beauty and make an image in direct response to the it. What results are two different art forms in direct conversation with each other. The hope is that the experience of looking at the art print enhances the experience of reading the book and vice versa.
Robert Bingaman
Bio
Robert Bingaman is a painter and filmmaker based in rural Kansas and New York City. In 2021, Robert exhibited "The Night Window," a solo exhibition featuring paintings, photographs, digital-native prints, and writings reflecting upon his experience of the global pandemic. In 2020, Robert's short film about the first weeks of the pandemic, "Meditation 17", was featured by PBS Newshour. His work is in several public and private collections across the United States.
Links
https://instagram.com/robertjosiah
Work description
Last November, I made plans to take a solo journey to Beacon, New York, a place that has been special to me for years. A few days before I left, my friend Chloé Cooper Jones called and asked if I would make something in response to her memoir—the eleventh chapter in particular—which so happens to be set in Beacon, where the impossible physics of Richard Serra's arcs stand defiant of what we know.

I'll never forget how it felt when I came to the last page of the galley, feeling the full force of Chloé's experience, so generously translated from the depths of her special mind to an audience that is sure to be universal in scope. I was riding the train to Beacon, my eyes on the river. It was my 40th birthday, and I felt a wave of relief. Someone had finally said so much of what I've always wanted to say, and she said it so much better than I ever could have.

There isn't an accolade, award, or sale that has meant more to me than this commission, because I've always respected Chloé's ability as singular. I am certain this book—due out April 5 from Simon & Schuster—will mark the moment that her voice takes on the responsibility of generational talent. If you don't know her, you will.

My only goal for this painting was to tell my friend that she did it, she pulled off the impossible balance. She told the sober truth, and it was beautiful.
April 2022 Indie Next List
---
"The subtitle 'memoir' doesn't do justice to this spectacular, sui generis meditation on art, disability, parenting, and travel. It's about more than memory — it's about living in the now and creating the future we want for our children."
— Rebekah Shoaf, Boogie Down Books, Bronx, NY
Description
---
A New York Times Notable Book of 2022 * Vulture's #1 Memoir of 2022 * A Washington Post, Los Angeles Times, USA TODAY, Time, BuzzFeed, Publishers Weekly, Booklist, and New York Public Library Best Book of the Year

From Chloé Cooper Jones—Pulitzer Prize finalist, philosophy professor, Whiting Creative Nonfiction Grant recipient—an "exquisite" (Oprah Daily) and groundbreaking memoir about disability, motherhood, and the search for a new way of seeing and being seen.

"I am in a bar in Brooklyn, listening to two men, my friends, discuss whether my life is worth living."

So begins Chloé Cooper Jones's bold, revealing account of moving through the world in a body that looks different than most. Jones learned early on to factor "pain calculations" into every plan, every situation. Born with a rare congenital condition called sacral agenesis which affects both her stature and gait, her pain is physical. But there is also the pain of being judged and pitied for her appearance, of being dismissed as "less than." The way she has been seen—or not seen—has informed her lens on the world her entire life. She resisted this reality by excelling academically and retreating to "the neutral room in her mind" until it passed. But after unexpectedly becoming a mother (in violation of unspoken social taboos about the disabled body), something in her shifts, and Jones sets off on a journey across the globe, reclaiming the spaces she'd been denied, and denied herself.

From the bars and domestic spaces of her life in Brooklyn to sculpture gardens in Rome; from film festivals in Utah to a Beyoncé concert in Milan; from a tennis tournament in California to the Killing Fields of Phnom Penh, Jones weaves memory, observation, experience, and aesthetic philosophy to probe the myths underlying our standards of beauty and desirability and interrogates her own complicity in upholding those myths.

"Bold, honest, and superbly well-written" (Andre Aciman, author of Call Me By Your Name) Easy Beauty is the rare memoir that has the power to make you see the world, and your place in it, with new eyes.
About the Author
---
Chloé Cooper Jones is a philosophy professor and journalist based in Brooklyn, New York. She is a contributing writer for The New York Times Magazine, a Whiting Creative Nonfiction Grant recipient, and, in 2020, was a finalist for the Pulitzer Prize in Feature Writing.
Praise For…
---
"Gorgeous, vividly alive." —The New York Times

"A rich, decadent book that rewards close reading... anyone who immerses themselves in Chloé's writing will come away with a greater understanding of everything beautiful about the human experience, and how to behold it." —Isaac Fitzgerald, The Today Show

"[A] work of genuine genius… a travelog; a philosophical tract; a meditation on what it is to live in this world with a visible disability; a consideration of what beauty means, what parenthood means, what art and fame mean. If this sounds like too much, it's not: Ms. Jones is a brilliant writer, a composer of stunning sentences that nail down experiences and emotions I would have thought ineffable." —Elizabeth McCracken, The Wall Street Journal

"[An] exquisite memoir." —O, The Oprah Magazine

"Extraordinary." —Arianna Rebolini, Vulture

"Easy Beauty is bold, honest, and superbly well-written. Chloé Cooper Jones is ruthless in probing our weakest and darkest areas, and does so with grace, humor, and ultimately, with something one seldom finds: kindness and humanity." —André Aciman, author of Call Me By Your Name

"A spiky and inspiring book for any reader at odds with a superficial culture." —Los Angeles Times

"Part travelogue and part treatise... Philosophy, art, gender, sex, travel, motherhood, academia, humor—this book has it all." —New York Public Library

"Written with the curiosity of a scholar, the compassion of a mother, and the keen insight of a person who has lived on the margins of what is deemed acceptable, Easy Beauty is a rare, poignant gem of a memoir... Transcendent." —Bookreporter

"Jones resists sentimentality and is as unsparing on herself as she is on other people, yet she writes with such graciousness, too. A wonderful debut." —Buzzfeed

"Transcendent... In keeping the reader close as she navigates the world, Jones lets us in on the effort it takes to move through the world in a disabled body... This is all rendered in sentences, insights, and metaphors so precise and evocative that demonstrate her literary mastery." —Oprah Daily

"Soul-stretching, breathtaking... A profound, impressive, and wiser-than-wise contemplation of the way Jones is viewed by others, her own collusion in those views, and whether any of this can be shifted... A game-changing gift to readers." —Booklist (starred review)

"Jones' writing is thoughtful and deeply felt, and her stories will fascinate anyone who wants to look at the world in a new way." —Apple Books (Best of the Month)

"Perceptive, stylish, and darkly funny, Easy Beauty is an act of grace, and a reckoning. Chloé Cooper Jones is a remarkable writer—I would follow her mind anywhere." —Anna Wiener, author of Uncanny Valley

"I recommend Easy Beauty to anyone who has wanted beauty badly, even without knowing quite what it is, but who could never seem to access it. At least, I'm that sort of anyone, and I could feel and recognize parts of myself in every moment of this book. Chloé Cooper Jones' writing pierces right through and lets a light in." —Mitski