The Power Notebooks (Paperback)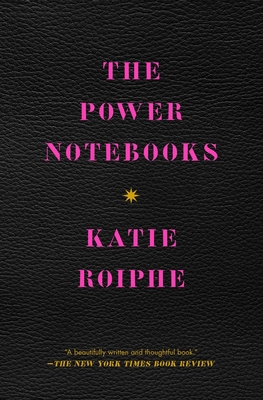 $17.00

Available In Store Now (while supplies last)
Description
---
Katie Roiphe, culture writer and author of The Morning After, shares a "beautifully written" (The New York Times Book Review) "astute memoir [that] reverberates with rich prose, crisp pacing, and self-compassion" (Publishers Weekly) and an essential discussion of how strong women experience their power.

Told in a series of notebook entries, Roiphe weaves her often fraught personal experiences with divorce, single motherhood, and relationships with insights into the lives and loves of famous writers such as Sylvia Plath and Simone de Beauvoir. She dissects the way she and other ordinary, powerful women have subjugated their own power time and time again, and she probes brilliantly at the tricky, uncomfortable question of why.

"Although Ms. Roiphe seems to be exposing her vulnerabilities here, she is actually, once again, demonstrating her unique brand of fearlessness" (The Wall Street Journal). The Power Notebooks is Roiphe's most vital, thought-provoking, and emotionally intimate work yet.
About the Author
---
Katie Roiphe is an author and journalist writing about feminist issues. She is best known for writing The Morning After: Sex, Fear, and Feminism, and In Praise of Messy Lives, as well as The Power Notebooks, and has contributed articles to prominent publications like The New York Times, The Washington Post, Harper's Magazine, Esquire, The Paris Review, Vogue, and Slate. She has a PhD in literature from Princeton University and is the director of the Cultural Reporting and Criticism program at New York University's Arthur L. Carter Journalism Institute. She lives in Brooklyn with her husband and children.