The Stationery Shop (Paperback)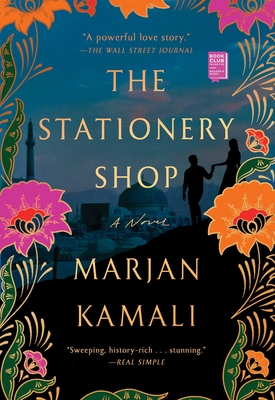 $17.99

Not In Store / Available To Order (allow for shipping time to bookstore or direct-to-home)
July 2019 Indie Next List
---
"The Stationery Shop is one of the most beautifully written novels I have read in a long time. The masterful plot brings us to a lost time and culture, but also transcends time and country. In a story set against the upheaval of 1953 Tehran, we discover how events change the destiny of two teenagers who meet in a book and stationery shop and fall in love. This novel of political dreams, family loyalty, lingering memories, love, and fate will haunt you long after the story ends."
— Janet Hutchison, The Open Door Bookstore, Schenectady, NY
Description
---
A poignant, heartfelt new novel by the award-nominated author of Together Tea—extolled by the Wall Street Journal as a "moving tale of lost love" and by Shelf Awareness as "a powerful, heartbreaking story"—explores loss, reconciliation, and the quirks of fate.

Roya, a dreamy, idealistic teenager living amid the political upheaval of 1953 Tehran, finds a literary oasis in kindly Mr. Fakhri's neighborhood stationery shop, stocked with books and pens and bottles of jewel-colored ink.

Then Mr. Fakhri, with a keen instinct for a budding romance, introduces Roya to his other favorite customer—handsome Bahman, who has a burning passion for justice and a love for Rumi's poetry—and she loses her heart at once. Their romance blossoms, and the little stationery shop remains their favorite place in all of Tehran.

A few short months later, on the eve of their marriage, Roya agrees to meet Bahman at the town square when violence erupts—a result of the coup d'etat that forever changes their country's future. In the chaos, Bahman never shows. For weeks, Roya tries desperately to contact him, but her efforts are fruitless. With a sorrowful heart, she moves on—to college in California, to another man, to a life in New England—until, more than sixty years later, an accident of fate leads her back to Bahman and offers her a chance to ask him the questions that have haunted her for more than half a century: Why did you leave? Where did you go? How is it that you were able to forget me?
About the Author
---
Marjan Kamali, born in Turkey to Iranian parents, spent her childhood in Kenya, Germany, Turkey, Iran, and the United States. She holds degrees from UC Berkeley, Columbia University, and New York University. Her work has also been broadcast on BBC Radio 4 and published in two anthologies: Tremors and Let Me Tell You Where I've Been. An excerpt from The Stationery Shop was published in Solstice Literary Magazine and nominated for a Pushcart Prize. Her debut novel Together Tea was a Massachusetts Book Award Finalist, an NPR WBUR Good Read, and a Target Emerging Author Selection. Marjan lives with her husband and two children in the Boston area.
Praise For…
---
"[A] moving tale of lost love."
— The Wall Street Journal

"Marjan Kamali weaves a powerful, heartbreaking story of star-crossed lovers and Iran's political upheavals...The Stationery Shop is at once a layered historical saga of a country struggling toward democracy and an intimate meditation on "a love from which we never recover."
— Shelf Awareness

"Marjan Kamali's The Stationery Shop is an affecting novel about first love."
— Real Simple

"A powerful love story."
— Newsweek

"Spanning decades and continents, Marjan Kamali's richly imagined novel immerses us in the blossoming love affair between two Iranian teenagers, set against the political upheaval of 1950s Tehran. Evocative, devastating, and hauntingly beautiful, THE STATIONERY SHOP explores love's power to transcend time and distance—and the ways fate can tear people apart and bring them back together. This book broke my heart again and again."
— Whitney Scharer, author of THE AGE OF LIGHT

"Kamali paints an evocative portrait of 1950s Iran and its political upheaval, and she cleverly writes the heartbreak of Roya and Bahman's romance to mirror the tragic recent history of their country. Simultaneously briskly paced and deeply moving, this will appeal to fans of Khaled Hosseini and should find a wide audience."
— Booklist

"A sweeping romantic tale of thwarted love."
— Kirkus Reviews

"A beautifully immersive tale, THE STATIONERY SHOP brings to life a lost and complex world and the captivating characters who once called it home."
— Jasmin Darznik, New York Times bestselling author of THE GOOD DAUGHTER and SONG OF A CAPTIVE BIRD

"The unfurling stories in Kamali's sophomore novel (after Together Tea) will stun readers as the aromas of Persian cooking wafting throughout convince us that love can last a lifetime. For those who enjoy getting caught up in romance while discovering unfamiliar history of another country."
— Library Journal



"A big, ambitious, beautifully executed novel that draws the reader in and never lets go."


— The Santa Barbara Independent

"Grab your tissues . . . Marjan Kamali's second novel channels love in the time of coup d'états. Set among the political upheaval of 1950s Tehran, The Stationery Shop follows teenager Roya as she discovers the power of love, loss, and then, decades later, fate. And did we mention you'll need tissues?"
— Boston Magazine

"A tender story of enduring love."
— Minneapolis Star Tribune

"I! Am! Obsessed! With! This! Book! . . . Think The Notebook, only better (no offense, Ryan Gosling)."
— COSMOPOLITAN.COM

"A beautiful, emotionally honest story about first love, deep family bonds, and fate."
— Pop Sugar

"What a pleasure—a novel that is all at once masterfully plotted, beautifully written, and filled with characters who are arresting, lovable, and so real. Brava, Marjan Kamali; now that I've finished, I miss this world of yours."
— Elinor Lipman, author of GOOD RIDDANCE and TURPENTINE LANE

"A heart-wrenching story about two literary souls torn apart by social upheaval . . . a tragically beautiful narrative of star-crossed lovers."
— The Daily Nebraskan

"Set against the political turmoil of 1950's Tehran, Marjan Kamali's THE STATIONERY SHOP illuminates how love is experienced over time and influenced by the fingerprints of others. Yet. despite every obstacle, the power of heart and memory endure. A beautiful and sensitive novel that I loved from the first page."
— Alyson Richman, international bestselling author of THE LOST WIFE and THE SECRET OF CLOUDS

"[A] tender story of lifelong love…The loss of love and changing worlds is vividly captured by Kamali; time and circumstances kept these lovers apart, but nothing diminishes their connection. Readers will be swept away."
— Publishers Weekly

"The Stationery Shop is a wistful look at two idealists and the world they should have inherited . . . Kamali offers a paean not just to lost love, but to the poetry, food, and culture that fed their memories for 60 years."
— Christian Science Monitor