Stud and the BloodBlade: The Collected Edition (Paperback)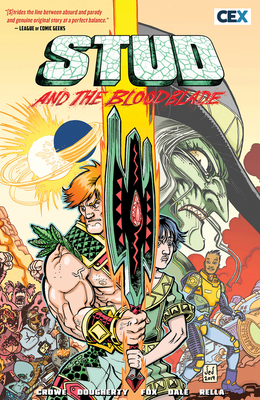 Email orders@greenlightbookstore.com for information about this item.
Out of Print / Unavailable
Description
---
Stud and the BloodBlade is the perfect antidote for superhero fatigue. While graphic novel pages (and screens big and small) are filled with muscular do-gooders, compelling antiheroes, and sympathetic villains, the ongoing and interconnected nature of the modern superhero genre keeps the stakes from being too high (always just setting up the next adventure). As an original, self-contained story, Stud fires from both barrels, blasting out the unbridled adventure and unyielding plot twists that fans of classic comic books crave, while also giving modern readers the gore and flesh and outrageous humor that marks today's culture. Stud thrives on its density, with a complex plot and philosophical quandaries as well as rich, busy visuals that fill each panel with layers of details that reward closer inspection. This ain't popcorn fare or an amusement park ride—this is a seven-course meal filled with scintillating conversation and followed by a fine brandy.

With Stud and the BloodBlade's adult take on juvenile fare like action figures and adventure cartoons, as well as its advocacy for acceptance through its multiracial cast, LGBTQ+ central romance, and sympathetic depiction of mental health crises, the book would probably do best in big cities (Los Angeles, New York, Chicago, Seattle, Portland, Austin). Perry was born and raised outside Minneapolis, so he has connections there as well.
About the Author
---
Perry Crowe is a writer and editor whose work has appeared in the Los Angeles Times, Kirkus Reviews, Opium, Tastes Like Chicken, The Smart Set, and more. He has worked in TV, books, magazines, and newspapers, and his interests include his interests include nature, navel-gazing, and people who solve problems with jetpacks. He lives in Los Angeles.

Jed Dougherty is a freelance illustrator who has worked for Dark Horse, DC, IDW, Image, Titan, Valiant, and Vertigo comics as artist and as inker. His first comics work was the self-published zine Uncertain Stories. He honed his comics skills working in the studio of Howard Chaykin as a backgrounder and paste-up artist. He has drawn Worlds' Finest for DC as well as the independent comics Ultravixen and Wynter Dark.
Praise For…
---
"Now this story is the sum total of everything I want when science fiction meets fantasy." —The Grand Geek Gathering

"This book strides the line between absurd and parody and genuine original story at a perfect balance." —The League of Comic Geeks

"Writers like Tim Seeley and others do a good job creating comic stories with the existing [He-Manand theMasters of the Universe] characters, but if Mattel comes out with a new generation of characters after all these years, I would hire Crowe and Dougherty to add to the mythos. They've got the insane synergy of the original toys and show down perfectly." —Chad Parenteau, Poet for Hire

"Dude, this is the wildest shit I've read in 10 years." —Dave Wilkins, artist, Star Wars, Savage Sword of Conan, Blade, He-Manand the Masters of the Universe