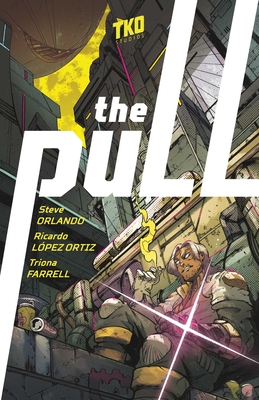 $19.99
Email orders@greenlightbookstore.com for information about this item.
Description
---
TKO Studios presents "The Pull" from superstar creators Steve Orlando (Wonder Woman, Martian Manhunter) and Ricardo López Ortiz (Deadpool, Hit-Girl: Colombia)

An endtimes caper for the Global Warming era, where humankind's consumption has attracted the attention of the primordial destroyer - THE UNDOER. The only hope lays in BRENTON DEMM, one of Earth's thirteen super-science police, and his ex-wife GAYANO TITH. With days left until the Undoer swallows the Earth, Tith can stop the Undoer, as long as Demm can keep her alive. The catch? Ever since his gloryhounding caused a disaster that killed hundreds and put Earth on the Undoer's radar, he's been clinically incapable of giving a damn. Disaffected, corrupt, but still looking for a hint of hope in his last days, Demm finds it when Tith tells him the world doesn't have to end. He just has to get back to work.

"An ambitious and larger-than-life sci-fi series from writer Steve Orlando and artist Ricardo Lopez Ortiz." - SYFY Wire

"Steve Orlando's Profile Hasn't Stopped Rising." - AV CLUB

"Orlando is changing the landcape of comic books for a new generation." - ADVOCATE
About the Author
---
Steve Orlando writes and edits. His many works including VIRGIL, UNDERTOW, and stories in the Eisner Award Nominated OUTLAW TERRITORY at Image Comics. He has also written MIDNIGHTER and MIDNIGHTER AND APOLLO, both nominated for GLAAD awards, as well as JUSTICE LEAGUE OF AMERICA, BATMAN AND ROBIN ETERNAL, SUPERGIRL, and WONDER WOMAN for DC Entertainment.

Ricardo López Ortiz is a Brooklyn, NY based comic book artist and illustrator hailing from Puerto Rico. He's known for his work on Marvel's WAR OF THE REALMS: WAR SCROLLS (2019), BLACK PANTHER VS. DEADPOOL, WEAPON X, TOTALLY AWESOME HULK MONSTERS UNLEASHED, and CIVIL WAR 2: KINGPIN, as well as HIT-GIRL: COLOMBI, WOLF, and ZERO for Image Comics

Triona Farrell is a colorist from Dublin, Ireland. She has worked with numerous companies such as Dark Horse, Image, and Marvel on titles such as BLACKBIRD, BLACK WIDOW, and TERMINATOR. Numerous books of hers have been nominated for Eisner Awards, including CROWDED. In her spare time she follows many nerd activities and reads comics.