The Best Science Fiction of the Year: Volume Four (Hardcover)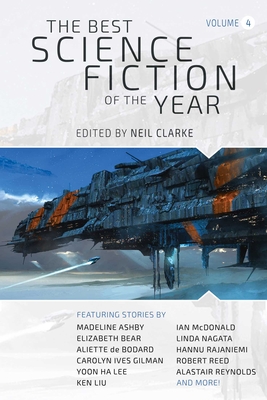 $34.99
Email orders@greenlightbookstore.com for information about this item.
Description
---
A human detective and their partner, an enhanced chimpanzee, investigate a strange murder on the subway . . . a smart home goes into lockdown, turning a man's own home into his prison . . . at a robot factory, something has caused the machines to attempt to escape . . . mysterious seeds raining down from deep space could be the first sign of an alien invasion . . . a woman seeks to restore a broken AI, hoping it can help return humanity to better days . . .

For decades, science fiction has compelled us to imagine futures both inspiring and cautionary. Whether it's a warning message from a survey ship, a harrowing journey to a new world, or the adventures of well-meaning AI, science fiction inspires the imagination and delivers a lens through which we can view ourselves and the world around us. With The Best Science Fiction of the Year: Volume Four, award-winning editor Neil Clarke provides a year-in-review and twenty-nine of the best stories published by both new and established authors in 2018.

Table of Contents
Introduction: A State of Short SF Field in 2018
When We Were Starless—Simone Heller
Intervention—Kelly Robson
All the Time We've Left to Spend—Alyssa Wong
Domestic Violence—Madeline Ashby
Ten Landscapes of Nili Fossae—Ian McDonald
Prophet of the Roads—Naomi Kritzer
Traces of Us—Vanessa Fogg
Theories of Flight—Linda Nagata
Lab B–15—Nick Wolven
Requiem—Vandana Singh
Sour Milk Girls—Erin Roberts
Mother Tongues—S. Qiouyi Lu
Singles' Day—Samantha Murray
Nine Last Days on Planet Earth—Daryl Gregory
The Buried Giant—Lavie Tidhar
The Anchorite Wakes—R.S.A. Garcia
Entropy War—Yoon Ha Lee
An Equation of State—Robert Reed
Quantifying Trust—John Chu
Hard Mary—Sofia Samatar
Freezing Rain, a Chance of Falling—L.X. Beckett
Okay, Glory—Elizabeth Bear
Heavy Lifting—A.T. Greenblatt
Lions and Gazelles—Hannu Rajaniemi
Different Seas—Alastair Reynolds
Among the Water Buffaloes, a Tiger's Steps—Aliette de Bodard
Byzantine Empathy—Ken Liu
Meat and Salt and Sparks—Rich Larson
Umbernight—Carolyn Ives Gilman 
2018 Recommended Reading List
About the Author
---
Neil Clarke is the editor of Clarkesworld and Forever Magazine and owner of Wyrm Publishing, and a six-time Hugo Award Nominee for Best Editor (short form). He currently lives in New Jersey with his wife and two children.
Praise For…
---
Praise for Neil Clarke's Anthologies with Night Shade Books
 
"Readers should savor the stories a few at a time to get the most out of Clarke's superior selections . . . but there are no inferior pieces here. This is a fine, thoughtful book."
—Publishers Weekly, starred review for Not One of Us
 
"Well-known SF authors grace this . . . top-notch selection of imaginative and thought-provoking stories."
—Kirkus Reviews, starred review for More Human Than Human
 
"Clarke's stellar reprint anthology explores the expansive variety of space exploration stories. . . . Outstanding works in which extreme environments bring out the best and worst of human nature."
—Publishers Weekly, Starred Review for The Final Frontier

"Twenty one fascinating tales from some of science fiction's new stars. The reprint collection is multicultural and diverse, with tales of all kinds and from some unusual places. . . . Many standouts in this one and likely something here for all sorts of different kinds of folks."
—Manhattan Book Review, 4.5/5 Stars for The Final Frontier
 
"This hefty anthology of imperial SF covers great space battles, small dramas within an empire, hopeless bureaucracy, and even living space stations, zooming in and out to capture every nuance . . . The diverse array of stories ensures that there's plenty of interest for any fan of large-scale SF." 
—Publishers Weekly on Galactic Empires

"Masterful editor Neil Clarke has assembled an exotic, bountiful treasure chest of reprint tales dedicated to that mode of SF that can arguably be said to constitute the very core of the field, the space opera."
—Asimov's on Galactic Empires
 
"Clarke has assembled a wide range of authors – from old masters like Robert Silverberg to more recent talents such as Aliette De Bodard – each offering a different take on the central premise. . . There isn't a bad piece amongst them . . . the Galaxy really is there for the taking."
—Starburst on Galactic Empires, reviewed by Alister Davison

"As editor Clarke points out in his introduction, when most people hear the term galactic empire, they immediately picture Darth Vader and Star Wars. But there is a long history of star-faring empires in the genre, with stories that imagine our human tendencies to explore and conquer among the stars. . . . The stories gathered here, all of which have appeared elsewhere, show the huge range of possibilities of the chosen theme." 
—Library Journal on Galactic Empires

"The first must-read anthology of the year, no question, is Neil Clarke's Galactic Empires, an ambitious (read: huge) collection of SF tales featuring far-flung confederations in the stars. The TOC is a who's-who of virtually everyone doing important work at short length in science fiction." 
—John O'Neil, Black Gate on Galactic Empires

"Brings together some of the best voices writing in the genre today. . . . a stunning collection of short fiction."
—WorldsInInk on Galactic Empires