What Happens at Night (Hardcover)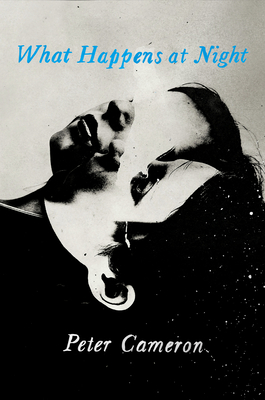 $26.00
Email orders@greenlightbookstore.com for information about this item.
Description
---
A couple find themselves at a fading, grand European hotel full of eccentric and sometimes unsettling patrons in this "faultlessly elegant and quietly menacing" allegorical story that examines the significance of shifting desires and the uncertainty of reality (Garth Greenwell, author of Cleanness).

An unnamed American couple travels to a strange, snowy European city to adopt a baby. It's a difficult journey that leaves the wife, who is struggling with cancer, desperately weak, and her husband worries that her illness will prevent the orphanage from releasing their child.

On arrival, the couple checks into the cavernous and eerily deserted Borgarfjaroasysla Grand Imperial Hotel where the bar is always open and the lobby populated with an enigmatic cast of characters ranging from an ancient, flamboyant chanteuse to a debauched businessman to an enigmatic faith healer. Nothing is as it seems in this baffling, frozen world, and the more the couple struggles to claim their baby, the less they seem to know about their marriage, themselves, and life itself.

For readers of Ian McEwan, Elizabeth Strout, and Iris Murdoch, What Happens at Night is a "masterpiece" (Edmund White) poised on the cusp of reality, told by "an elegantly acute and mysteriously beguiling writer" (Richard Eder, The Boston Globe).
About the Author
---
Peter Cameron is the author of eight novels and three collections of stories. His short fiction has appeared in The New Yorker, The Paris Review, Rolling Stone, and many other literary journals. He lives in New York City and Sandgate, Vermont.
Praise For…
---
A Refinery29 Best Book of the Year

"What Happens at Night retools the Victorian ghost story . . . The novel's indeterminacy is both intriguing and moving, because it means that one character's loss is another's consummation, and an unbroken night is both a source of terror and the condition of a long–desired resting place." —Sam Sacks, The Wall Street Journal

"Humor, threat and dreamlike complications all pile up until What Happens at Night takes you utterly out of this world . . . Cameron's chilly, fanciful setting serves as a latticework around which all sorts of uncertainties accrue––sexual, spiritual, medical, logistical––and identities exist only to be shattered . . . Ominous and beguiling in equal measure, What Happens at Night delivers a nightmare you may want to savor more than once." —Michael Upchurch, Seattle Gay News

"This beautifully eerie tale of desire and death goes down like an icy shot of schnapps: first it burns you with its chill, then it ignites in you a lingering fire . . . Cameron reveals himself to be a master at portraying grief and despair, longing and love." —Kristen Iversen, Refinery29

"Basically like a Kafka story and a Wes Anderson movie combined, if you can wrap your brain around that. Suffice to say: it's great." —Emily Temple, Literary Hub

"Calling forth the ghosts of both Franz Kafka and Stefan Zweig, with their depictions of the faded glory of a central Europe about to devour itself as well as the innate absurdity of being a human in such a place (or any place), Peter Cameron's What Happens at Night provides a distinctly American gloss to the tradition of disorienting and disturbing high Modernism." —Ed Simon, The Millions, A Most Anticipated Book of the Year

"If you are looking for a book with just the right amount of the bizarre, look no further than Peter Cameron's latest novel . . . What Happens at Night is quite a tasty little atmospheric tale . . . Cameron masterfully constructs a labyrinth of mystery and suspense, drama and intrigue . . . nimble . . . Cameron's crisp, often spare prose constructs this unusual world and its singular atmosphere perfectly. Sliding subtly out of the realm of the concrete and into the surreal with every page turned, What Happens at Night is a rare journey that will leave the reader both unsettled and utterly satisfied." —Beth Mowbray, The Nerd Daily

"An especially fine novel . . . There is a deep darkness to be penetrated in this tale." —David Masello, The Gay and Lesbian Review

"Perhaps What Happens at Night might have been more aptly titled When Serling Met Sartre. It's a weirdly compelling mix of all the elements that make us human and all the situations that test our humanity." —BookPage

"[A] dreamline, resonant fable . . . Cameron doles out the right amount of eeriness and eccentricity . . . emotionally affecting." —Publishers Weekly

"A snow–swept journey to the ends of the Earth continues Cameron's exploration of defamiliarized landscapes and the intricacies of human relationships . . . A dreamy fable confronting love, death, and our inevitable inadequacy yet persistence in the face of both." —Kirkus Reviews (starred review)

"[An] atmospheric and philosophical tale . . . The claustrophobic setting somehow brilliantly and counterintuitively creates the space for Cameron (Coral Glynn, 2012) to expand the interiority of his characters, to spelunk down into their psychological labyrinths, and follow the paths wherever they might lead, leaving the reader transfixed and wonderfully disoriented." —Booklist

"A menacing, suspenseful novel . . . will keep readers on tenterhooks, wondering how the tension will break." —Shelf Awareness

"A surreal, funny, heartbreaking story about love and mortality. Cameron's sense of balance between the comic and the catastrophic, between cynicism and sincerity, is astonishing. This book reminds me of nothing else I've ever read, which is high praise indeed." —Michael Cunningham, author of The Hours and The Snow Queen

"What Happens at Night finds its home among the mid–twentieth–century classics of psychological realism, as brutal, in its way, as The Sheltering Sky, and just as memorable, just as peopled with the deep human mysteries. This new novel is a powerful and admirable addition to Cameron's estimable body of work." —Rick Moody, author of the The Ice Storm and The Long Accomplishment

"Intense, beautiful, inescapable . . . Such a fine reduction of the enormity of the dreams of marriage, the responsibilities of marriage, of life, of love, and the ways in which—unintentionally or not—we inevitably fail each other and ourselves." —A. M. Homes, author of Days of Awe and May We Be Forgiven

"Faultlessly elegant and quietly menacing, like a tuxedo lined with knives. I can't think of another book at once so beautiful and so unnerving, so poised between miracle and disaster. Peter Cameron is one of America's greatest writers, the living stylist I most revere." —Garth Greenwell, author of What Belongs to You and Cleanness

"Terrifying, comic, and heartbreaking . . . We do not always know whether we are in the realm of the real or the hallucinatory in this thrillingly mysterious and gorgeously written novel."—Sigrid Nunez, author of The Friend