E-Bike: A Guide to E-Bike Models, Technology & Riding Essentials (Paperback)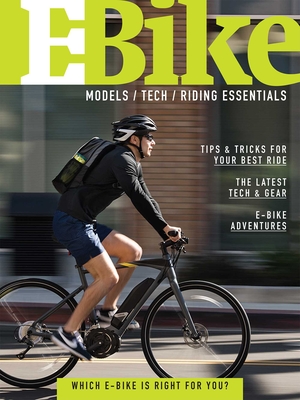 $19.95
Email orders@greenlightbookstore.com for information about this item.
Description
---
E-Bike is the essential guide to this exciting technology and way of riding. From features, benefits, pros and cons, and the best ways to take advantage of motor-assisted cycling, E-Bike shows how to get the best bike for you and how your new e-bike will improve your cycling.

Electric bikes are a new and fast-changing technology that's poised to transform how Americans ride bicycles, commute to work, and get around town. But in a market crowded with makes, models, and features, which e-bike is best for you?

E-bike expert Martin Haussermann explores this exciting new way of riding a bicycle to share all the information e-bike shoppers and owners need. With guidance from VeloNews tech editor Dan Cavallari, custom e-bike framebuilder Lennard Zinn, and cycling retail journalist Stephen Frothingham, E-Bike offers the e-bike curious the essential guide to e-bike tech, formats, and uses.

Whether you're looking for a city commuter, a speedy road bike, or a mountain bike, you can get up to speed on e-bike motors, drivetrains, brakes, and suspensions. Haussermann offers insights on e-bike handling, maintenance, and e-bike touring that makes clear all the benefits an e-bike can bring to your riding.

Electric bikes are here, and E-Bike shares the best ways to take advantage of motor-assisted cycling.
About the Author
---
Martin Haussermann is a journalist and photographer. He is cofounder of the German bicycle magazine Pressedienst Fahrrad ("Bike News"). He has authored 4 books on cars and worked in the automotive industry before transitioning to photography, cycling, and e-bikes.
Praise For…
---
"As a lifetime cyclist who developed a heart arrhythmia at age 55, I thought my days of going on great rides was over. Boy, was I wrong! I made myself an e-bike, and now I'm back to doing great rides in the mountains, fun group rides with friends, and getting to meetings, appointments, and errands all over town by bike. The e-bike has brought me back the lifestyle I was missing. This E-Bike guide is a great compendium of all of the information you need to be an educated e-bike consumer and owner."
— Lennard Zinn

"Haussermann explores this exciting new way of riding a bicycle to share all the information e-bike shoppers and owners need."
— Bicycle Retailer & Industry News