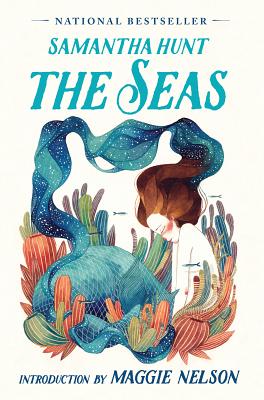 $15.95

Available In Store Now (while supplies last)
Staff Reviews
---
After her father disappears into the ocean, the nameless narrator of The Seas clings to his assurance that she is a mermaid destined for the same fate.  As she comes of age in a small coastal town prone to alcoholism and depression, an older veteran comes into her life.  She falls deeply in love with him as they waste away the days, a love that remains unrequited and opens her eyes to the harshness of growing up.  Confronted with the world's cruelness, she escapes down a path that lands her in jail before escaping in a dreamy finale that makes for the kind of story myths are made of.  A creepy, ethereal, and psychologically astute novel about a big fish in a small pond, Samantha Hunt's The Seas is a modern classic that begs to be read by any human who's ever felt outcast or misunderstood.  This novel changed my queer little life when I read it growing up in small-town Ohio.  It's the kind of novel I'd do anything to be able to read for the first time again, but since I can't I'll settle for passing that gift onto you.
— Kyle
Description
---
National Bestseller
"The Seas took me back to how I felt as a kid, when you're newly falling in love with literature, newly shocked by its capacity to cast a spell..." ?Maggie Nelson (from the Introduction)
A Most Anticipated Book of Summer at BuzzFeed, NYLON, and more. 
Moored in a coastal fishing town so far north that the highways only run south, the unnamed narrator of The Seas is a misfit. She's often the subject of cruel local gossip. Her father, a sailor, walked into the ocean eleven years earlier and never returned, leaving his wife and daughter to keep a forlorn vigil. Surrounded by water and beckoned by the sea, she clings to what her father once told her: that she is a mermaid.
True to myth, she finds herself in hard love with a land-bound man, an Iraq War veteran thirteen years her senior.The mesmerizing, fevered coming-of-age tale that follows will land her in jail. Her otherworldly escape will become the stuff of legend.
With the inventive brilliance and psychological insight that have earned her international acclaim, Samantha Hunt pulls readers into an undertow of impossible love and intoxication, blurring the lines between reality and fairy tale, hope and delusion, sanity and madness.
About the Author
---
Samantha Hunt's The Seas, her debut novel, won a National Book Foundation award for writers under thirty-five. She is also the author of Mr. Splitfoot, Dark, Dark: Stories, and  The Invention of Everything Else. Hunt's writing has been published in The New Yorker, The New York Times, McSweeney's, A Public Space, Tin House, Cabinet, among others.
Praise For…
---
It's hard to imagine that a book so brief could tackle the Iraq war, grief over the loss of a parent, the longing for freedom, an enthrallment with the ocean, loneliness, sexual awakening, faith, and etymology, all in less than 200 pages, but Samantha Hunt has done it, and done it well.
— Chicago Review of Books