One Small Saga (Paperback)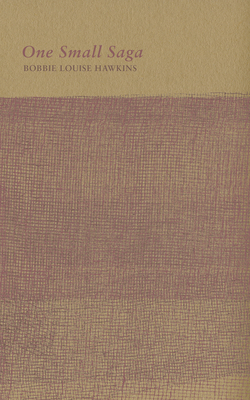 Click on "Ask A Bookseller" to contact us via email for more information about this title.
Not In Store / May Not Be Available To Order (email orders@greenlightbookstore.com for details)
Description
---
Fiction. Originally published by Coffee House Press in 1984, ONE SMALL SAGA--one of Bobbie Louise Hawkins' most personal and haunting autobiographical novels--is now back in print. This revival edition also includes a new introduction by Laird Hunt and Eleni Sikelianos, an interview with the author about the writing of ONE SMALL SAGA conducted in 2011 by Barbara Henning, and the Hawkins' long-out-of-print short story En Route, another travel narrative, originally published as a chapbook by Little Dinosaur Press in 1982.
The story begins in the late 1940s, when a young Albuquerque bride accompanies her husband back to his family home in Denmark, then to London and the British colonies of Jamaica and British Honduras. The narrator endures the company of both pathetic and incorrigible characters while struggling to reconcile her idealization of The Modern Marriage with the painful reality of life with a philandering husband. Through the widening eyes of her protagonist, who develops into a woman of depth and vision, Ms. Hawkins creates characters who must adjust to the demands of others and of circumstances. Some relinquish the ability to communicate with others. For a few, adjustment means learning how to communicate with grace and tolerance. Told with humor, compassion, and just a hint of sarcasm, ONE SMALL SAGA ultimately becomes a story of human compromise and adaptation to the quiet disasters of an ordinary life.