Hidden War: How Special Operations Game Wardens Are Reclaiming America's Wildlands from the Drug Cartels (Hardcover)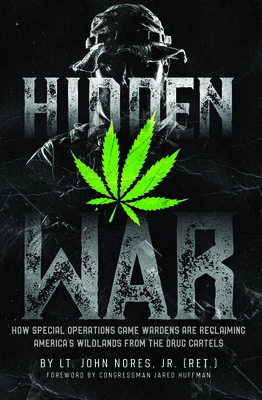 Email orders@greenlightbookstore.com for information about this item.
Out of Print / Unavailable
Description
---
This isn't a book about a conflict in a faraway country; it's a wake-up call.
While debates about border security continue to rage, and with stories about legal and illegal marijuana in the news daily, Hidden War forces an astonishing dose of reality into the public consciousness.
California game warden Lt. John Nores, Jr., now retired, has been at the forefront of an under-reported battle against thousands of Mexican drug cartel members who grow toxic marijuana on U.S. soil, frequently on public lands, and sometimes remarkably close to population centers. Who would guess that this struggle is even going on, or that game wardens are on the front lines?
Not only does black market marijuana cultivation undermine legitimate growers, but it endangers lives. The cartels, armed and ready to defend their cash crop, pose a huge threat to hikers, hunters, bikers, bird watchers and everyone else who enjoy public lands and wild places. Further, trespass marijuana growers divert waterways and use banned chemicals that render the plants toxic. And even after these criminals are long gone, they leave behind an environmental disaster that may never be fixed.
It's estimated that black market sales of marijuana comprise up to 90% of all weed sales annually. California is at the hub of this problem, and the effects reverberate across the U.S.
This is John Nores' personal account of his time leading the elite California Special Operations Marijuana Enforcement Team (MET). Hidden War brings to life the firsthand story of how America's unsung heroes are fighting to keep our wild lands safe.
About the Author
---
Since 1992, Lt. John Nores Jr. has served as a game warden with the California Dept. of Fish and Wildlife (CDFW). There he co-developed the Marijuana Enforcement Team (MET) and Delta Team, the CDFW's first comprehensive wilderness spec ops tactical and sniper unit, aimed at combatting the marijuana cartel's decimation of California's wildlife resources. Lt. Nores and his team have been featured on the National Geographic channel's television series, "Wild Justice." In addition, Nores is the author of numerous magazine articles and the book, War in the Woods: Combating the Marijuana Cartels on America's Public Lands.