The Wandering Earth: Cixin Liu Graphic Novels #2 (Paperback)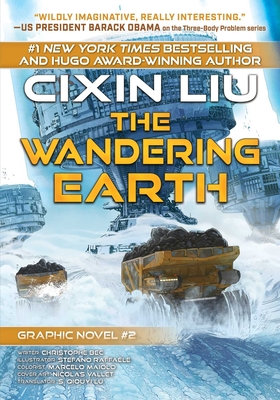 $17.99
Email orders@greenlightbookstore.com for information about this item.
Description
---
The second in a new series of graphic novels from Hugo Award-winning author Liu Cixin and Talos Press

The life-bringing sun is on track to have a catastrophic helium flash within the next four hundred years, which would wipe the Earth from the universe entirely. To survive, humanity constructs massive engines on Earth that keep running nonstop, gradually taking Earth out of the Sun's orbit. Braking, escaping, and hostile living conditions wear down humanity's hope. People who believe that civilization has already been destroyed form a rebel faction, carrying out a ruthless execution of those who still believe that the Sun will undergo a helium flash.

The second of sixteen new graphic novels from Liu Cixin and Talos Press, The Wandering Earth is an epic tale of the future that all science fiction fans will enjoy. 
About the Author
---
Cixin Liu is the most prolific and popular science fiction writer in China, as well as a senior engineer. For his grand narratives and superb imagination, Liu is recognized as a leading voice in Chinese science fiction. He is a multi-award winner with Hugo, Locus, Ignotus, Kurd-Laßwitz-Preis, and Seiun Awards, as well as many others. He is also a nominee for the Nebula Award. In 2018, he received Arthur C. Clarke Award for Imagination in Service to Society. He is also a nine-time winner of the China Galaxy Award, and in 2015 earned the Xingyun Lifetime Achievement Award.

Liu rose to international acclaim with his Three-Body Trilogy, which received extensive coverage by international media outlets, including TheNew Yorker, The New York Times, The Guardian, Der Spiegel, and El Mondo. The series was highly praised by readers such as former U.S. President Barack Obama, Mark Zuckerberg, Kim Stanley Robinson, and George R.R. Martin, and has been translated into twenty-six languages.
 

Christophe Bec was born in Rodez, France, in August 1969. His parents moved to Marocco soon after, so he spent his early years there before coming back to the south of France. He learned how to read with the famous Belgium comic-book magazine Tintin. He has collaborated with many publishers and tried many kinds of stories, from thrillers to poetic and intimate ones. His favorite themes are sci-fi, thriller, epic fantasy, and horror. He works often with his best collaborator, the Italian artist Stefano Raffaele. Today, after having published more than 120 comic books as writer or as drawer, Christophe has decided to split his time between comic books and the film industry. He has directed 2 short films and is preparing for long-term projects for TV series.
 

Stefano Raffaele was born in1970 in Milano, Italy, where he lives now. He started his career in the fumetti (comic-books/magazines) in 1994, and then moved to USA to work for the American comic-book industry on famous characters such as the New Gods, Birds of Prey, Batman, X-Men, and more—more than 20 different well-known titles. In 2007, he met Christophe Bec and started a long and fruitful collaboration, and they have since published many stories together. In 2010, he received the prestigious Carlo Boscarato Prize in Italy as Best Artist.