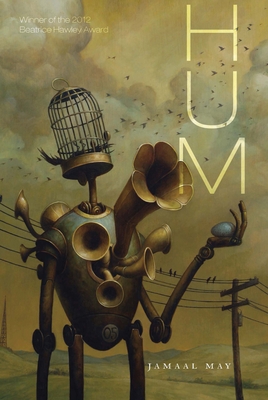 Description
---
2014 Notable Book Award from the American Library Association
2013 Silver IndieFab Award Winner
2013 NAACP Image Award Nominee
2013 ForeWord Book of the Year Award Finalist
2013 The Boston Globe's Best Books of 2013 List
2012 Beatrice Hawley Award
Linguistically acrobatic and] beautifully crafted. . . Jamaal May's] poems, exquisitely balanced by a sharp intelligence mixed with earnestness, makes his debut a marvel." --Publishers Weekly "The elegant and laconic intelligence in these poems, their skepticism and bent humor and deliberately anti-Romantic stance toward experience are completely refreshing. After so much contemporary writing that seems all flash, no mind and no heart, these poems show how close observation of the world and a gift for plain-spoken, but eloquent speech, can give to poetry both dignity and largeness of purpose, and do it in an idiom that is pitch perfect to emotional nuance and fine intellectual distinctions. Hard-headed and tough-minded, Hum is the epitome of what Frost meant by 'a fresh look and a fresh listen.'" --Tom Sleigh Jamaal May's debut collection, Hum, is concerned with what's beneath the surfaces of things--the unseen that eats away at us or does the work of sustaining us. Reading these poems, I was reminded of Ellison's 'lower frequencies, ' a voice speaking for us all. May has a fine ear, acutely attuned to the sonic textures of everyday experience. And Hum--a meditation on the machinery of living, an extended ode to sound and silence--is a compelling debut." --Natasha Trethewey In his percussive debut collection Hum, Jamaal May offers a salve for our phobias and restores the sublime to the urban landscape. Whether you need a friend to confide in, a healer to go to, or a tour guide to take you there, look no further. That low hum you hear are these poems, emanating both wisdom and swagger." --A. Van Jordan
From Mechanophobia: Fear of Machines:

There is no work left for the husks.
Automated welders like us,
your line replacements, can't expect
sympathy after our bright
arms of cable rust over. So come
collect us for scrap, grind us up
in the mouth of one of us.
Let your hand pry at the access
panel with the edge of a knife,
silencing the motor and thrum.
About the Author
---
Jamaal May is a poet, editor, and filmmaker from Detroit, MI where he taught poetry in public schools and worked as a freelance audio engineer and touring performer. His poetry won the 2013 Indiana Review Poetry Prize and appears in journals such as Poetry, Ploughshares, The Believer, NER, and The Kenyon Review. Jamaal has earned an MFA from Warren Wilson College as well as fellowships from Cave Canem and The Stadler Center for Poetry at Bucknell University. He founded the Organic Weapon Arts Chapbook Press.