Starman: Bowie's Stardust Years (Paperback)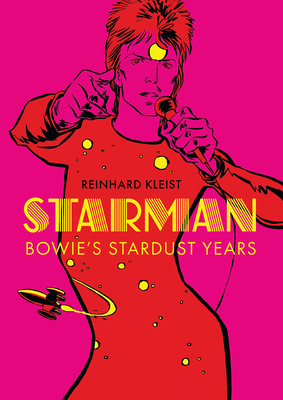 $19.99

Available In Store Now (while supplies last)
Description
---
Award-winning writer/illustrator Reinhard Kleist's Starman is a full-color graphic novel biography of David Bowie's transformation into Ziggy Stardust, the genesis and near apocalypse of a rock 'n' roll messiah.

In 1972, the rock'n'roll messiah ZIGGY STARDUST was born. His provocative play on sexual identity and gender roles laid the foundation for David Bowie's ascent to becoming one of the most successful pop musicians of all time.

Reinhard Kleist's STARMAN weaves the gripping tale of this outrageous character's genesis, rise, and fall, as well as of David Bowie's hapless efforts in the London music scene before Ziggy's arrival, and of the struggles he experienced with his own creation at the height of his fame. As Bowie transforms himself, ever more frenetically, into the egocentric rock star he first conceived, the extravagant lifestyle he had only ever imagined threatens to engulf him, and bring everything down before his eyes . . .

This publication has not been prepared, approved, authorized, or licensed by the David Bowie estate or any related entity.
About the Author
---
Reinhard Kleist has written a number of critically acclaimed graphic novels, among them the award-winning biographies Havana: A Cuban Journey (2008), Johnny Cash: I See a Darkness (2009), and Castro (2010). Kleist lives in Berlin, Germany.