Prussia's Glory: Rossbach and Leuthen 1757 (Hardcover)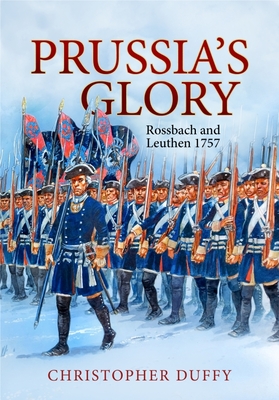 $49.95
Email orders@greenlightbookstore.com for information about this item.
Description
---
Rossbach and Leuthen are included in the Great Battles of History. Frederick made himself one of the Great Captains by these victories. Prussian military prowess became legendary. The Franco-German army swept away at Rossbach, and the Austrian army routed at Leuthen, were not only larger and had a fair share of professional soldiers, but the Austrians had beaten the Prussians not long before. So how were they so humiliated? What made Frederick Great? For more than a century people believed it was because the Prussians were just naturally suited for war. Until 1945 many Germans, and their foes, remembered how Frederick miraculously saved Prussia against overwhelming odds, by marching through the snow towards Leuthen church. As always, it was not so simple. The expert on 18th-century armies, Christopher Duffy, shows why French, Austrian and Reichsarmee soldiers, though often enough brave and skillful, marched to defeat, and how Frederick, often unaware of the legend he was creating, won these famous battles. It is no longer left to myth, but to reliable accounts of hard fighting, quick decisions, and the fate of the soldiers and civilians swept up by the fighting.