Robert Moses: The Master Builder of New York City (Hardcover)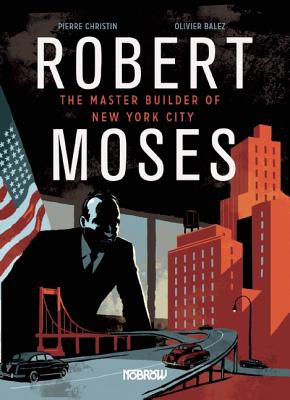 Email or call us for information about purchasing this item.
Description
---
THE NEW YORK TIMES BESTSELLER!

From the subway to the skyscraper, from Manhattan's financial district to the Long Island suburbs, every inch of New York tells the story of one man's mind: Robert Moses, the architect who designed it all. Now, in Pierre Christin and Olivier Balez's new graphic biography, the rest of Robert's story will be told.
About the Author
---
Pierre Christin was born at Saint-Mandé in 1938. In addition to the ongoing Valerian series, Christin has written several other comics oneshots, including The City That Didn't Exist, The Black Order Brigade and The Hunting Party, all illustrated by Enki Bilal.
Among the many European comics artist he has collaborated with are Enki Bilal, Jacques Tardi, Alexis, Raymond Poïvet, Jijé, Annie Goetzinger, Daniel Ceppi, and François Boucq. This is his first collaboration with Olivier Balez.

Olivier Balez is a longtime comics artist and children's book illustrator who resides in Chile. He has illustrated work in virtually every genre of comics, collaborating with Florence DeCamp, Eric Corbeyran, and Pascale Fonteneau, among many others.
Praise For…
---
A The New York Times BESTSELLER!

"The book […] tells Moses's story in lushly nostalgic sepia-toned colors. The reader who yearns to see Moses-style urban planning in action gets plenty of it."
—The New York Times

"This work provides an excellent overview of one of New York's most powerful public figures and the legacy he left behind for generations to come."
—School Library Journal

"The artwork by Balez (Le chanteur sans nom) is stunning, not only in the intricate cityscapes but in the complementary blue-orange color palate. Christin never lets the biography stay too long in a single narrative mode, moving back and forth from exposition to dialogue. Nor does the book skirt some of the more troubling aspects of Moses' attitudes toward urban renewal. It's a gorgeous primer in the history of New York's urban planning."
—Publisher's Weekly

"Does the world need yet another account of Moses' crusade to build the 20th century's greatest city (and Jacobs' efforts to save its soul)? It does, perhaps, when that book is Pierre Christin's and Oliver Balez's engaging, unexpected graphic novel Robert Moses: The Master Builder of New York City. […] The book is […] a human portrait of a hardened man and a stirring rendering of his works. Needless to say, a picture book suits tales of urban planning well."
—Planetizen

"The Power Broker himself gets the European graphic biography treatment in this richly produced tranSlated edition from Nobrow (even the ink smells sumptuous). There's something to be said for Christin and Balez's strategy: keep the story spare, and let the visual impact of skylines, architectural details, and bird's-eye panoramas speak for themselves…great for New York-ophiles, comics lovers and architects alike."
—Greenlight Bookstore

"Robert Moses: The Master Builder of New York City," from Nobrow Press, is an unqualified success; toss in the gorgeous artwork and carefully crafted story, and it transcends just about any biography, graphic or not, that you're likely to read this year. […] What makes this particular graphic novel so successful is that every action, from his questionable liaisons with pop singers at Jones Beach, to his triumphs of helping the poor, are illustrated in a beautiful, colorful style that is filtered through a nostalgic haze. Because of Balez's technique, everything looks like a tranquil memory […] the book is a great introduction to Moses for those that aren't familiar with his story, and a beautifully illustrated one at that."
—Multiversity

"In Robert Moses, The Master Builder of New York City (Nobrow, £15.99), Pierre Christin and Olivier Balez chronicle this almost Randian figure in architecture and urban planning, who was driven to re-shape New York into his global vision. But some of his colossal proposals would overstep the mark, such as the 10-lane Lower Manhattan Expressway, successfully opposed by activist Jane Jacobs. Christin and Balez note that while Jacobs is commemorated with a day in her honour, Moses's name remains obscure to many; their insightful portrait should help to correct that."
—Paul Gravett, The Independent

"Robert Moses: The Master Builder of New York City is an easy-to-digest account perfect for those who don't wade through a textbook...The book explores parts of New York that rarely are glorified in comics. The graphic treatment is a perfect way to capture the story of one of New York's most powerful men, making it accessible even to those who don't want to sift through hundreds of pages of biographical footnotes.
—Fast Company Design

"The book does a great job of capturing just how much of a visionary Moses was. The luscious artwork shows the scale of his works, and a stylised retro aesthetic and slightly dulled grittiness to the colour perfectly capture both the character of New York and, latterly, the transformation of the city over time. Particularly impressive are the panoramic views that occur throughout the book; whether they are of the entire city or focusing on specific buildings, these are effectively used throughout and impress on the reader the grandeur of the city and of Moses's works. […] Robert Moses: Master Builder of New York is a fine book."
—Quadrapheme

"French comics veterans Pierre Christin and Olivier Balez's new graphic novel is a cursory look at Moses' life and accomplishments that is less detailed than Caro's tome but benefits greatly from the visual nature that the medium affords. […] Olivier Balez evokes mid-century New York with a style that is similar to Darwyn Cooke's work on the Parker crime fiction books set in a similar era. While Balez and Christin hit on at least some of the good and bad in regards to how Moses' plans for urban progress disrupted many black and ethnic neighborhoods and treaded upon the cultural history of the city, the book shines when Balez is actually showing us the transformation Moses was responsible for through stunningly gorgeous drawings of his many monolithic architectural structures."
—Mental Floss

"Beautifully rendered by a Chilean comic artist and a French comic writer, it conveys both the small scale life of the protagonist and his big-scale accomplishments."

—Dina Weinstein, Jewish Book Council

"Balez pages force you to linger. They don't weigh you down and cause the narrative to outpace you; they allow you to take in story at a pace more appropriate to the story. […] Balez' pages are worthy of the attention they demand you give them. […] His art, in both its panel-to-panel syntax and its aesthetic, is perfectly suited to the story of Robert Moses. […] The book, fortunately, avoids becoming hagiography and paints a fairly nuanced picture of someone who is largely considered a polarizing figure."
—This Is Infamous

"The art is lovely, and the comic book approach to this story helps to present his positive and negative sides with verve and energy. The book works well as a graphic novel, using the techniques of the comics medium adroitly to present a work that is more than a simple recitation of facts. If you care about cities, history, or smartly built biographical comics, Robert Moses: the Master Builder of New York City is a terrific read."
—Comics Bulletin

"Fittingly for a book on the life of a master builder, Moses has the exquisite flow and airy linework of an art deco architecture sketch...Ultimately, Robert Moses continues Nobrow's impeccable devotion to well-designed and presented works with fresh perspectives."
—Loser City

"Robert Moses: The Master Builder of New York City is a solid introduction to this enigmatic architect. Christin and Balez put down the facts with a deceptively fluid ease, combining story and art to create a substantial and objective graphic novel that does not shy away from the darker aspects of one of the defining individuals in the history of the Big Apple."
—Broken Frontier

"The art is absolutely magnificent. For all of the (justified) complaints about Moses, he did build some miraculous public works, which are illustrated carefully and lovingly here." -Topless Robot

"Robert Moses is an excellent example of why the comics format excels in presenting biography, giving you snapshots of life while picking key "moments" to guide you through an intricate narrative."

—Hannah Means Shannon, Bleeding Cool