If: A Mind-Bending New Way of Looking at Big Ideas and Numbers (Hardcover)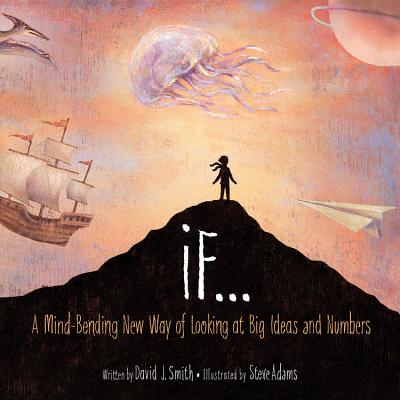 $18.99

Not In Store / Available To Order (allow for shipping time to bookstore or direct-to-home)
Description
---
"Some things are so huge or so old that it's hard to wrap your mind around them. But what if we took these big, hard-to-imagine objects and events and compared them to things we can see, feel and touch? Instantly, we'd see our world in a whole new way." So begins this endlessly intriguing guide to better understanding all those really big ideas and numbers children come across on a regular basis. Author David J. Smith has found clever devices to scale down everything from time lines (the history of Earth compressed into one year), to quantities (all the wealth in the world divided into one hundred coins), to size differences (the planets shown as different types of balls). Accompanying each description is a kid-friendly drawing by illustrator Steve Adams that visually reinforces the concept. By simply reducing everything to human scale, Smith has made the incomprehensible easier to grasp, and therefore more meaningful. The children who just love these kinds of fact-filled, knock-your-socks-off books will want to read this one from cover to cover. It will find the most use, however, as an excellent classroom reference that can be reached for again and again when studying scale and measurement in math, and also for any number of applications in social studies, science and language arts. For those who want to delve a little deeper, Smith has included six suggestions for classroom projects. There is also a full page of resource information at the back of the book.
About the Author
---
David J. Smith is a teacher and educational consultant with over 25 years of experience in the classroom and is the creator of the award-winning curriculum "Mapping the World by Heart."
Steve Adams has collaborated with a wide range of publications, including the Wall Street Journal, the Chicago Tribune and the Globe and Mail. He has also illustrated eight children's books. He lives in Montreal, Quebec.
Praise For…
---
If this book were a pizza, young readers would gobble down every slice---and demand more for dessert.—Kirkus Reviews

Smith, who employed the same kind of imaginative scaling down of ideas in his popular 2002 book, If the World Were a Village, does a great job making nearly incomprehensible concepts less so.—Quill & Quire

The text serves as an excellent discussion starter and bridge to comprehending big concepts. A solid suggestion for fact-focused young readers.—School Library Journal

" ... this is one of those books school-age children can happily page through many times, and even adults may find themselves taking a second and third whirl.—The New York Times

... this is absorbing and informative.—Booklist

The best thing about If... is that it can be truly enjoyed by all ages. ... If... is also an excellent resource for teachers as it easily fits into Mathematics, Social Studies, History, and Geography at different grade levels.—CM Magazine

This would be a fun book to book-talk to children in grades two to six.—Resource Links