Ocean of Sound: Aether Talk, Ambient Sound and Imaginary Worlds (Five Star Title) (Paperback)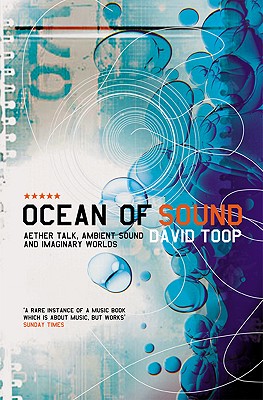 David Toop guides readers on an excavation of sound documentation, cataloging sonic explorations throughout the 20th century: from a never-realized collaboration between Edgard Varèse & Charlie Parker to the new-German sounds of Kraftwerk. Recordings of Amazonian frog choirs are discussed with the same reverence as a Tokyo radio station where programming schedules reflect tidal patterns. This is a book about the transcendent nature of listening with patience & care, which we should all consider in this age of elaborate distraction.
Picked by David in Fort Greene
Description
---
Ocean of Sound begins in 1889 at the Paris Exposition when Debussy first heard Javanese music performed. A culture absorbed in perfume, light and ambient sound developed in response to the intangibility of 20th century communications. David Toop traces the evolution of this culture, through Erik Satie to the Velvet Undergound; Miles Davis to Jimi Hendrix.
David Toop, who lives in London, is a writer, musician and recording artist. His other books are Rap Attack 3 and Exotica.
About the Author
---
David Toop is a highly regarded author, music critic and musician. Since 1995 he has released three solo albums, curated five compilation albums (including the soundtrack to Ocean of Sound), and the sound and music exhibition at the Hayward Gallery - 'Sonic Boom'. His music journalism appears in The Wire, Village Voice, The Times and The Face.