Forgotten Beasts: Amazing creatures that once roamed the Earth (Hardcover)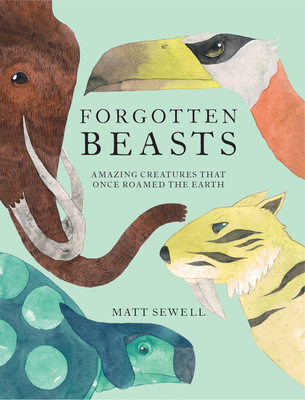 Description
---
A witty, colorful celebration of the amazing lost creatures of this planet; with a strong message of protection and conservation.

Matt Sewell's follow-up to The Colorful World of Dinosaurs is a beautifully-illustrated large format look at the amazing beasts that time forgot--from the relatively well known, such as the sabre-toothed tiger and woolly mammoth, to the obscure monsters that walked the earth millions of years ago--many now forgotten.

Although less celebrated than the dinosaurs, the range of beasts is equally impressive, every one an amazing or scary creature that actually stalked the planet. Like the dinosaurs, these beasts are awe-inspiring in their variety, in a wide range of furs, feathers and colours, making for a stunning collection of vivid watercolor illustrations.

These beasts are arranged chronologically--from the strange invertebrate Opabinia that lived over 500 million years ago, to the Thylacine, or Tasmanian Tiger, that became extinct in 1936.
About the Author
---
Artist and illustrator Matt Sewell is renowned for his bird and animal illustrations. Matt has illustrated for the Guardian and Barbour, painted underpasses for the RSPB, and exhibited in London, Manchester, New York, Tokyo and Paris. He is an avid ornithologist and regular contributor to the Caught by The River website (he also designed their logo). He has illustrated numerous children's books including The Colorful World of Dinosaurs. His bird books, including Penguins and Other Seabirds, Our Songbirds, and A Charm of Goldfinches and Other Wild Gatherings, have taken the world by storm. He lives in Shrewsbury, UK with his partner and two children.