The Choreography of Everyday Life (Hardcover)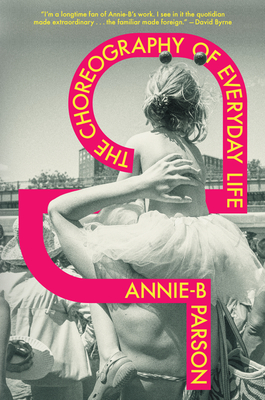 $24.95

Available In Store Now (while supplies last)
Description
---
A renowned choreographer explores the dance of everyday life and reveals that art-making is as natural as walking down the street

In this sparkling, innovative, fully-illustrated work, world-renowned choreographer Annie-B Parson translates the components of dance—time, proximity, space, motion and tone—into text. As we follow Parson through her days—at home, reading, and on her walks down the street—and in and out of conversations on everything from Homer's Odyssey to feminist art to social protest, she helps us see how everyday movement creates the wider world. Dance, it turns out, is everything and everywhere.

With the insight and verve of a soloist, Parson shows us how art-making is a part of our everyday lives and our political life as we move, together and apart, through space.
About the Author
---
Annie-B Parson is an award-winning choreographer and co-founder of the OBIE and Bessie Award–winning Big Dance Theater. Ms. Parson has created choreography for opera, pop stars, television, theater, ballet, symphonies, objects, museums, augmented reality, and 1,000 amateur singers. Among many others, she has choreographed for David Byrne, St Vincent, David Bowie, Laurie Anderson, Esperanza Spaulding, and Mikhail Baryshnikov.
Praise For…
---
"Compelling."
—Edwidge Danticat, author of Create Dangerously

"Bodies in space. I have heard Annie-B use this phrase dozens of times. It occurs to me this phrase refers to choreography and dance, but is also a transposable life philosophy...Of all the ways to move a body in space, through space, Annie-B creates the stage to have the most beautiful and beguiling ones be seen."
—St. Vincent

"I'm a long time fan of Annie-B's work. I see in it the quotidian made extraordinary...the familiar made foreign."
—David Byrne

"Parson's path is one that continues to push the boundaries of dance"
—Dan Meyer, Playbill

"The choreographer who democratized dance."
—Financial Times

"In this quiet, minute and understatedly virtuosic text, Annie-B Parson walks us through the intricate dances of pedestrianism and domesticity. Gently but firmly pressing back against linear heroic narratives that have tended to efface the practices of women artists, she braids together strands of beauty, resistance and reverie, slyly pulling her readers into an exquisite, inclusive choreography of living."
—Barbara Browning, author of The Gift

"Traipsing from The Odyssey to Trisha Brown, Hilma af Klint to Anne Carson, Parson braids together ideas through words and illustrations as she touches on the connections between protest, ritual and spectacle, how the pandemic asked pedestrians to rechoreograph their relationship to other bodies in space, Zoom and Tik Tok as creative forms, and more."
—Courtnney Escoyne, Dance Magazine

"Parson reframes banal encounters into beautiful, crystalline observations."
—Ava Wong Davies, Elephant

"The Choreography of Everyday Life is many things: a pandemic diary, a discourse of Greek tragedy, and a tribute to Parson's many inspirations, from Trisha Brown to Hilma af Klint. Mostly though, it's a leisurely walk through a brilliant mind. This book weaves together personal and theoretical reflections with evocative images from famous works of art and Parson's own casual snapshots. The result will be oddly familiar to any follower of her company Big Dance Theater. It's a delightful clash of high art and low culture, sparklingly intelligent yet warmly conversational."
—Andy Boyd, The New Books Network

"A thoughtful addition to a dance library collection."
—Library Journal

"Annie-B has choreographed for Davids (Bowie and Byrne), St. Vincent, Spike Lee, and Lorde, among others - giving movement to artists for whom movement is as essential to their work and melodies. Now, she's exploring how dance functions in everyday life, both in her own and on a societal level. In this illustrated work, Parson distills movement into text, exploring movement in feminist art to protests"
—Nylon

"This small but perfectly formed book gathers in the sacred and the profane, the virtual and visceral, poetical and political"
—Morning Star

"Award-winning choreographer Annie-B Parson uses this slim but potent volume to show readers how the movements of day-to-day life function as choreography in the same way dancers on a stage execute choreography as a group. Reading this book made me look at the mundane activities of my everyday life with fresh eyes. If dance is everything and everywhere, as Parson asserts, then all our small movements add to something much bigger than any one individual. It's an interesting idea for our current moment, where connection seems more necessary than ever but increasingly rare."
—David Vogel, Buzzfeed

"Parson's insights are a welcome reminder of the political value of dance, which has long served as a powerful aid to protest, its expressive beauty lending eloquence to public demonstrations of outrage or sorrow."
—Charlie Tyson, The Atlantic

"Parson's prose made me nostalgic...voraciously pinballing between art forms, always in search of the perfect verb."
—The Washington Post

"To Annie-B Parson, choreography isn't confined to the studio and the stage; rather, practically everything around us abounds with movement that's worth paying attention to. In her new, aptly titled book, The Choreography of Everyday Life, an inventive, observant, and witty ode to her relationship with dance and movement over the course of her lifetime, she delves into exactly that belief."
—Andrew Zuckerman, Time Sensitive

"This small and precious book can tell us the oldest and most profound story of how the body experiences space, inhabits it and is inhabited by it...the title to read this season."
—Sara Marzullo, Harper's Bazaar

"'If the universe is meaningless, so is the statement that it is so,' Alan Watts wrote as he contemplated our search for meaning. 'The meaning and purpose of dancing is the dance.' The metaphor comes alive with uncommon vitality in The Choreography of Everyday Life by choreographer Annie-B Parson, who has shaped living artworks by cultural icons ranging from David Bowie and David Byrne to Mikhail Baryshnikov and the Martha Graham Dance Company."
—Maria Popova, The Marginalian

"A small glimpse into the creative mind of an acclaimed contemporary artist of our time."
—Dance Teacher

"The book itself is a careful choreography. The spacing, brackets, punctuation, and images denote pauses, pairings, emphases, and visual cues. Verbs grow muscles, and metaphors become great choreographic tools. And though Parson appears to be an avid fan of Trisha Brown's rejection of fanfare, there remains a healthy dose of drama throughout."
—Wendy Perron, Notable Dance Books of 2022

"The Choreography of the Everyday is an extraordinary project. There's a scrap-book quality, visually and thematically. The pages are sprinkled with her photographs, her drawings, her post-its, or diagrams, or images of an ancient stele with dancing figures on it."
—Maggie Lange

"There is an aliveness to the book, threads pulling together and apart, weaving back to front, front to back, moving from thousands of years ago to the present. It connects me to the book, the author, and into a larger world - where we see choreography all around us."
—thINKingDANCE