Black Sci-Fi Short Stories (Gothic Fantasy) (Hardcover)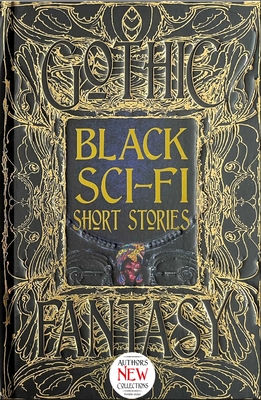 Description
---
"With topics ranging from slavery to space travel, the impressive breadth of this anthology makes for a well-rounded survey. Readers, writers, and scholars alike will find great value here." — Publishers Weekly Starred Review

A deluxe edition of new writing and neglected perspectives.

Dystopia, apocalypse, gene-splicing, cloning and colonization are explored here by new authors and combined with proto-sci-fi and speculative writing of an older tradition (by W.E.B. Du Bois, Martin R. Delany, Sutton E. Griggs, Pauline Hopkins and Edward Johnson) whose first-hand experience of slavery and denial created their living dystopia.

With a foreword by Alex Award-winning novelist Temi Oh, an introduction by Dr. Sandra M. Grayson, author of Visions of the Third Millennium: Black Science Fiction Novelists Write the Future (2003), and invaluable promotion and editorial support from Tia Ross and the Black Writers Collective and more, this latest offering in the Flame Tree Gothic fantasy series focuses on an area of science fiction which has not received the attention it deserves. Many of the themes in Sci-fi reveal the world as it is to others, show us how to improve it, and give voice to the many different expressions of a future for humankind.

The Flame Tree Gothic Fantasy, Classic Stories and Epic Tales collections bring together the entire range of myth, folklore and modern short fiction. Highlighting the roots of suspense, supernatural, science fiction and mystery stories, the books in Flame Tree Collections series are beautifully presented, perfect as a gift and offer a lifetime of reading pleasure.

Table of Contents:

An Empty, Hollow Interview by James Beamon

The Comet by W.E.B. Du Bois

Élan Vital by K. Tempest Bradford

The Orb by Tara Campbell

Blake, or The Huts of America by Martin R. Delany

The Floating City of Pengimbang by Michelle F. Goddard

The New Colossuses by Harambee K. Grey-Sun

Imperium in Imperio by Sutton E. Griggs

Seven Thieves by Emmalia Harrington

Of One Blood: Or, The Hidden Self by Pauline Hopkins

Space Traitors by Walidah Imarisha

The Line of Demarcation by Patty Nicole Johnson

Light Ahead for the Negro by Edward Johnson

e-race by Russell Nichols

Giant Steps by Russell Nichols

Almost Too Good to Be True by Temi Oh

You May Run On by Megan Pindling

Suffering Inside, But Still I Soar by Sylvie Soul

The Pox Party by Lyle Stiles

The Regression Test by Wole Talabi
About the Author
---
Temi Oh has a BSci in Neuroscience and an MA in Creative Writing. Her degree, and a book-club she founded while at KCL called 'Neuroscience-fiction', provided great opportunities to write and learn about mind-centred science and science fiction. Her first novel, Do You Dream of Terra-Two, won the American Library Association's Alex Award.

Dr. Sandra M. Grayson is a professor in English at University of Wisconsin-Milwaukee. Her publications include the books Visions of the Third Millennium: Black Science Fiction Novelists Write the Future; A Literary Revolution: In the Spirit of the Harlem Renaissance; and Sparks of Resistance, Flames of Change: Black Communities and Activism.

Tia Ross is the Founder of Black Writers Collective (BlackWriters.org), Founder/Managing Editor for Black Editors & Proofreaders (BlackEditorsProofreaders.com), Editor for ColorOfChange.org and Senior Editor for WordWiserInk.com. She is a polymath entrepreneur who is passionate about great writing, as well as forging successful businesses as an information architect and event organiser.
Praise For…
---
"With topics ranging from slavery to space travel, the impressive breadth of this anthology makes for a well-rounded survey. Readers, writers, and scholars alike will find great value here."
— Publishers Weekly Starred Review

"Both wonderful and important [...] this book is nothing less than a powerful argument for Black science fiction to be recognized, to be seen, and to be appreciated on its own terms. "
— Lightspeed Magazine

"An excellent mix of adventure and excitement. Some of them are in the creepy-Lovecraftian style, others are terrifying glimpses into the future. A great collection to dip in and out of."
— Terence Eden's Blog

"This comprehensive, powerful volume elevates marginalized voices of the genre, and is an excellent start for readers looking to diversify their reading material."
— Booklist

"[...] the anthology contains a thrilling group of memorable, moving tales that often examine the intersections of race, gender, grief, tech and the fantastical."
— Scientific American

"These tales incorporate sci-fi, dystopian, and oftentimes futuristic tales that intersect identity, technology, space, and time. While fictional, these are still great reads on the Black experience with a mix between century-old classics and more modern tales."
— Reviewed

"The latest installment of Flame Tree Press's "Gothic Fantasy" series has something for every speculative fiction taste."
— Library Journal