The Years - Winner of the 2022 Nobel Prize in Literature (Paperback)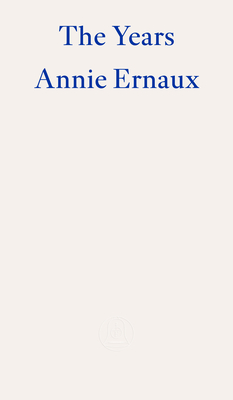 $11.99
Email orders@greenlightbookstore.com for information about this item.
Staff Reviews
---
Just to be clear, I read this before Annie Ernaux won the Nobel Prize, which is to say I'm a tastemaker. I loved this book so much I sent it to my mom. She loved this book so much that when she finished it, she texted me so we could exchange passages that made us cry, of which there were so many that it probably made us go over the data limit on our phone bill. It's the study of a life, both singular and collective, whose shape changes as the pace of the world accelerates—a broad view of the macrocosm that produces the microcosm. This is a desert island book for me! 
— Claire
Description
---
Considered by many to be the iconic French memoirist's defining work, The Years is a narrative of the period 1941 to 2006 told through the lens of memory, impressions past and present, cultural habits, language, photos, books, songs, radio, television, advertising and news headlines. Annie Ernaux invents a form that is subjective and impersonal, private and collective, and a new genre - the collective autobiography - in order to capture the passing of time. At the confluence of autofiction and sociology, The Years is 'a Remembrance of Things Past for our age of media domination and consumerism' (New York Times), a monumental account of twentieth-century French history as refracted through the life of one woman.
About the Author
---
Born in 1940, Annie Ernaux grew up in Normandy, studied at Rouen University, and later taught at secondary school. From 1977 to 2000, she was a professor at the Centre National d'Enseignement par Correspondance. Her books, in particular A Man's Place and A Woman's Story, have become contemporary classics in France. In 2022, she was awarded the Nobel Prize in Literature.