Duchamp's Telegram: From Beaux-Arts to Art-in-General (Hardcover)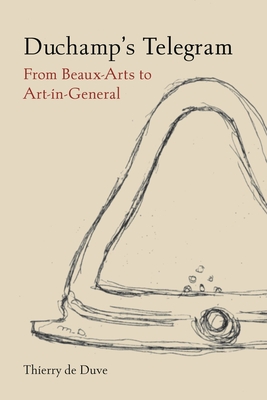 $45.00

Available In Store Now (while supplies last)
Description
---
A revisionist history of Duchamp's legacy and impact on modern art.
 
In 1917, Marcel Duchamp sent out a 'telegram' in the guise of a urinal signed R. Mutt. When it arrived at its destination a good forty years later it was both celebrated and vilified as proclaiming that anything could be art; from that point on, the whole Western art world reconfigured itself as 'post-Duchamp'.

This book offers a reading of Duchamp's telegram that sheds new light on its first reception, corrects some historical mistakes and reveals that Duchamp's urinal in fact heralded the demise of the fine arts system and the advent of what Thierry de Duve calls the 'Art-in-General' system. Further, the author shows that this new system does not date from the 1960s but rather from the 1880s. Duchamp was neither its author nor its agent, but rather its brilliant messenger.
 
About the Author
---
Thierry de Duve is the Evelyn Kranes Kossak Professor at Hunter College, City University of New York. His books include Sewn in the Sweatshops of Marx: Beuys, Warhol, Klein, Duchamp.
 
Praise For…
---
"This stunning book has all the precision and force of the artwork at its center. De Duve recovers Duchamp's 1917 Fountain as an extraordinary signal, previously lost in a sea of noise, that forever changed art – overturning myths of artistic intention, anthropocentrism, and symbolic and expressive 'content' and ushering in a different world in which art has no limits. It is a clarion call to reassess modernity and periodization itself in order to better understand the present."
— Michelle Kuo, Marlene Hess Curator of Painting and Sculpture, MoMA

"Duchamp's Telegram is the latest brilliant installment in the author's lifelong project of reinterpreting Duchamp for contemporary thought. It would be impossible to summarize in a few lines de Duve's arguments on behalf of Duchamp's epochal significance, but suffice it to say that the freshness and originality of his claims about what he calls the Art-in-General system are massively in evidence throughout his text. And as always de Duve's writing is marked by a sense of his delight in the play of his ideas, a quality that makes reading him a rare pleasure."
— Michael Fried, author of 'French Suite: A Book of Essays'