Ocean of Sound: Ambient Sound and Radical Listening in the Age of Communication (Paperback)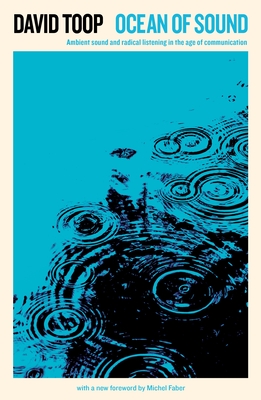 David Toop guides readers on an excavation of sound documentation, cataloging sonic explorations throughout the 20th century: from a never-realized collaboration between Edgard Varèse & Charlie Parker to the new-German sounds of Kraftwerk. Recordings of Amazonian frog choirs are discussed with the same reverence as a Tokyo radio station where programming schedules reflect tidal patterns. This is a book about the transcendent nature of listening with patience & care, which we should all consider in this age of elaborate distraction.
Picked by David in Fort Greene
Description
---
David Toop's extraordinary work of sonic history travels from the rainforests of Amazonas to the megalopolis of Tokyo via the work of artists as diverse as Brian Eno, Sun Ra, Erik Satie, Kate Bush, Kraftwerk and Brian Wilson.

Beginning in 1889 at the Paris exposition when Debussy first heard Javanese music performed, Ocean of Sound channels the competing instincts of 20th century music into an exhilarating, path-breaking account of ambient sound.

'A meditation on the development of modern music, there's no single term that is adequate to describe what Toop has accomplished here ... mixing interviews, criticism, history, and memory, Toop moves seamlessly between sounds, styles, genres, and eras' Pitchfork's '60 Favourite Music Books'
About the Author
---
David Toop is an English musician, author and professor of audio culture and improvisation at the London College of Communication. He was a member of the Flying Lizards and a contributor to the British magazine The Face. He is a regular contributor to The Wire, has recorded Yanomami shamanism in Amazonas, appeared on Top of the Pops, exhibited sound installations in Tokyo, Beijing and London's National Gallery, and performed with artists ranging from John Zorn, Evan Parker, Bob Cobbing and Ivor Cutler to Akio Suzuki, Elaine Mitchener, Lore Lixenberg and Max Eastley. He has published five books, including Ocean of Sound, and released eight solo albums.