Sambal Shiok: The Malaysian Cookbook (Hardcover)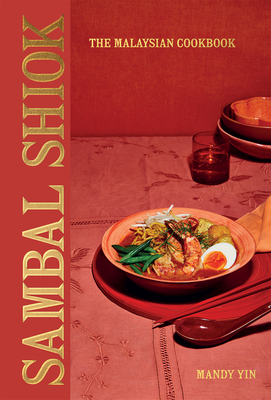 $35.00

Not In Store / Available To Order (allow for shipping time to bookstore or direct-to-home)
Description
---
Shortlisted for the Fortnum & Mason Food and Drink Awards (2022)
Guild of Food Writer's Awards, Highly Commended in 'First Book' category (2022)
André Simon Awards shortlisted (2022)

"Beautiful, inspiring, but above all authoritative. Mandy Yin holds all the secrets to exquisite Malaysian cooking... It is a rare treat that she's chosen to share them." – Grace Dent, restaurant critic for the Guardian

A soulful tribute to Malaysian cuisine, from snacks, soups and salads, to rice and noodle dishes, curries and sweet things.

Sambal Shiok is a brilliant collection of over 90 accessible recipes that were handed down from Mandy Yin's mother as well as those that she has developed for her critically acclaimed, award-winning London restaurant. The recipes – such as her signature curry laksa, Penang assam laksa, Malaysian fried chicken, prawn fritters, spiral curry puffs, flaky roti canai, beef rendang, KL golden fragrant clams, sambal mapo tofu, and the perfect steamed rice – can be made for a weekday family meal, a dinner party or celebration.

Malaysian food results from the unique merger over centuries of indigenous Malay ingredients with Indian spices and Chinese techniques. Every dish delicately balances sweet, sour, salty with chilli heat and a hint of bitter. With Mandy's evocative look at Malaysian food culture, her recipes, and the basics of a Malaysian pantry (shrimp paste, lemongrass, tamarind and coconut milk), you can easily enjoy the most delicious Malaysian meals at home.aysian meals at home.
About the Author
---
Mandy Yin is Malaysian-born Chinese of Peranakan Nyonya heritage. She moved from Kuala Lumpur to London at 11 and later studied and practiced corporate law. She eventually gave this up for a career in food. Mandy watched her mother cook all the family dishes they'd eaten for years and meticulously wrote down every step. She combined this knowledge of the fundamentals of Malaysian cuisine – its mind-boggling array of snacks, sharing dishes, slow-cooked curries and stews, strong spices and deep flavors, famous spicy laksa noodle soup and the nation's beloved sambal chilli sauce – with her memories of boisterous, hot hawker centers in Kuala Lumpur. Now, she owns and runs cult restaurant Sambal Shiok Laksa Bar in London and is regularly featured in the national press.

Mandy's life goal is to showcase the exciting variety of Malaysian food. She hopes that this book will inspire many to cook Malaysian dishes, to seek out and eat Malaysian food wherever the reader is in the world and, finally, to travel to Malaysia to fully understand and experience the richness of its cuisine and culture. For fellow Malaysians, she hopes that you will find great comfort in these pages, as she did recreating nostalgic tastes whilst writing this book during the Covid-19 pandemic lockdowns.
Praise For…
---
"Vibrant, face-slapping laksa... powerful, satisfying, the very stuff of memories." ? Jay Rayner, restaurant critic for the Observer
"Mandy's food is real, wonderful, exciting, classic and contemporary all at the same time. To know and understand the secrets of great Malaysian food as cooked and orchestrated by Mandy would be a revelation for anyone from budding amateur to the most experienced cooks." ? John Torode
""Sambal Shiok is a place of joy and great cooking. A beautiful thing to have in London and a wonder to have at my own back door." ? Giles Coren, restaurant critic for The Times,
"
"It takes something rather special to drag me up to the Holloway Road on a chill Wednesday night. At Sambal Shiok, the laksas are magnificent: murky with profoundly fish depth and a base chilli grunt." ? Tom Parker Bowles, restaurant critic for the Mail on Sunday
""Sambal Shiok's signature laksa has queues waiting around the block. Not bad for a tiny joint in N7... It's Holloway's hottest ticket!" ? Susannah Butler, Life Style Evening Standard,
"