Mandalas to Embroider: Kaleidoscope Stitching in a Hoop (Paperback)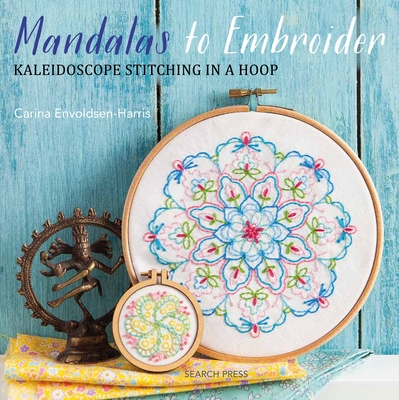 $13.95
Email orders@greenlightbookstore.com for information about this item.
Description
---
12 large and 12 small beautiful, meditative mandalas to embroider--and only 10 stitches to learn

Slip into serenity through your stitches with this collection of 24 exquisite, meditative mandalas by Polka & Bloom's Carina Envoldsen-Harris.

With Carina's gentle guidance, learn to embroider 12 large and 12 small mandalas, using just 10 stitches. By following the delicate, repeating patterns in these stunning motifs, you can soothe your mind, slow down and treat yourself to much-needed me-time and tranquillity.

Each beautiful mandala is accompanied by simple stitch diagrams and keys, and a corresponding transfer sheet at the back for easy stitching. Smaller mandalas fit in the gorgeous mini Dandelyne(TM) hoops, and can be transformed into gorgeous necklaces, badges and brooches. The book includes an inspiring gallery of items you can embellish with your mandalas
About the Author
---
Carina Envoldsen-Harris is a Danish designer, blogger and author living in the UK. She has a background in multimedia design as well as studies in art history and Italian language. Under the name Polka & Bloom, Carina has been designing and selling embroidery patterns since 2009. The patterns combine her life-long passion for art, design, history and nature, often including floral motifs and bright colours.

Carina's work has been published in many magazines including: Cross Stitcher, Mollie Makes (three issues), Australian Homespun (twice), Hoop-La!, Homemade with Love. She has also contributed to the following books: Mend It Better, Mollie Makes Christmas, The Needlecraft Stitch Directory, Stitch Along, Doodle Stitching: The Holiday Motif Collection (upcoming), Mollie Makes: Embroidery (upcoming).

Carina has also written two books: Stitched Blooms, published by Lark in Feb 2014, and Romantic Motifs, published by Search Press in 2016. Mandalas to Embroider is her third book. Carina designs her own embroidery patterns which she sells successfully via her on-line store Polka and Bloom, and also sells items of clothing and accessories which she embellishes with her embroidery designs.
Praise For…
---
Library Journal 2018
Two dozen colorful, mandala-inspired embroidery designs created by Envoldsen-Harris (Transfer & Stitch: Romantic Motifs) are the focus of this collection. Floral motifs figure prominently, including seasonal designs featuring cherry blossoms and poinsettias, as well as stylized and Scandinavian-style flowers. Other designs serve as a showcase of stitches, such as the winter solstice mandala, which includes a variety of decorative stitches in a traditional circular layout. Suggestions for colors and stitches are provided, but stitchers can customize based on individual preferences. Twelve of the mandalas are large (sized to fit in a six-inch hoop), and 12 are miniature (sized to fit in a three-inch hoop), with iron-on transfers provided for each. VERDICT These beginner-friendly designs will provide a meditative stitching experience.

PLANET JUNE - March 2018
Ever since Carina mentioned that she was designing a book of mandalas, I've been waiting to see what she came up with, and I wasn't disappointed! Embroidery, like other slow crafts, can be a calm relaxing hobby, and combining that with repeating mandala patterns sounds like a perfect recipe for slowing down and enjoying some crafting time.
Mandalas to Embroider includes 12 large and 12 small delicate repeating patterns. Nature-based, geometric, or more abstract, the designs are all bold, happy, and – of course! – colourful. The circular nature of the patterns means they fit perfectly in an embroidery hoop, making the finished pieces easy to display.
The pages of the second half are actually iron-on transfers for each of the patterns. Each page is perforated so it can be removed neatly, and there's a handy pocket inside the back cover to store any transfers you've already used. I thought this was a really nice touch, as each transfer can be used up to ten times, so you'll be able to keep the transfer pages together with the book, so they're ready for the next time you want to use them.
This book is beautifully styled and photographed, and I couldn't stop paging through again and again to admire the variety of mandala-inspired patterns.
Carina's designs always have a hand-drawn quality to them, and I was impressed to see that she's managed to maintain that even with the repeating patterns in Mandalas to Embroider. There's still a free, natural quality to the designs. I noticed while I was stitching the flowers that the petals of each flower aren't perfectly identical. This is a good thing – the relaxed nature of the design felt like permission to be relaxed in the execution – there's no need to make every stitch exactly even and perfect to get a beautiful result.
If you've never tried embroidery, I'd definitely encourage you to give it a try – I found it very relaxing and satisfying to watch the design come together. And I think Mandalas to Embroider is a perfect introduction to embroidery, as you can build your confidence by practicing your stitching on the smaller patterns, or do as I did and jump right into a large one.