Empire of the Son (Paperback)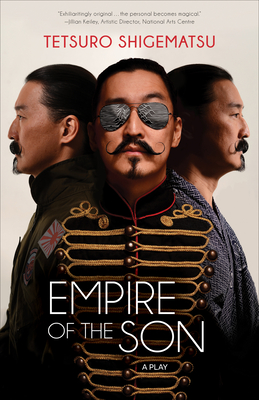 $16.95
Email orders@greenlightbookstore.com for information about this item.
Description
---
Empire of the Son is an original one-hander that blurs the boundaries between artistic disciplines and continents. It is a unique theatrical hybrid that combines cinematography with the raw immediacy of a performance piece intimately connected to real life in real time. Through a series of audio interviews, playwright Tetsuro Shigetmatsu discovers vast worlds contained within his emotionally remote father - from the ashes of World War II and Hiroshima to swinging London in the 1960s and work in broadcasting at the BBC. As the playwright learns about how his own father was once a son, he realizes all the ways in which he himself needs to step up and become a better dad. This funny, poignant story of one immigrant family and their intergenerational conflicts reminds us that no matter how far we journey out into the world to find ourselves - across decades and continents - we never stop being our parents' children. It is the story of two generations of CBC broadcasters and the radio silence between them. Nominated for six Jessie Awards. Remount completely sold out in Vancouver and scheduled for productions across Canada in 2017.
Cast of 1 man.
About the Author
---
Tetsuro Shigematsu (born 1971) is a Canadian playwright, actor, comedian, filmmaker, and radio broadcaster. He hosted CBC Radio One's afternoon series The Roundup, where he replaced Bill Richardson in 2004, making him the first visible minority to host a daily network radio program in Canada. The show completed its final episode on November 4, 2005. Before working for CBC Radio, Shigematsu wrote for the Canadian comedy show This Hour Has 22 Minutes and was involved in a number of other CBC-TV shows, including Madly Off in All Directions and Pass the Mic. He currently writes for the Huffington Post and serves as president of Vancouver Asian Canadian Theatre. Although Shigematsu's parents were both born in Japan, his father in Kagoshima and his mother in Osaka, they relocated to London in the 1960s, where his father worked for the BBC, and where Tetsuro and his four siblings were born before relocating to Canada. Shigematsu studied in Montreal, completing a BFA at Concordia University. He has just defended a PhD in Creative Writing at the University of British Columbia. In 1991, at age nineteen, Shigematsu became the youngest playwright to compete in the history of the Quebec Drama Festival. Previous plays include the one-man show Rising Son (performed 1993 to 1996).