28 Days of Positivity: How to crush negativity and release a lifetime of greatness in less than a month (Paperback)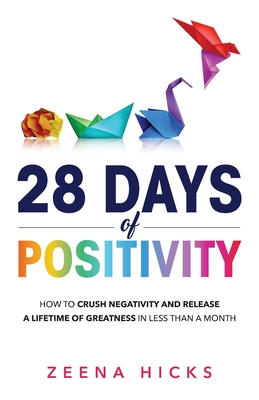 $14.99

Not In Store / Available To Order (allow for shipping time to bookstore or direct-to-home)
Description
---
28 Days of Positivity: How to crush negativity and release a lifetime of greatness in less than a month, provides a simple formula for finding more joy in your life and making good things happen. The book contains a medley of invaluable life resources, which can pick you up when you are feeling down, stamp out any negativity ruling your life, or even completely change who you are and where you are going in life, on your terms With 28 different activities and tools to try out, or embed into your daily routine, this book offers you the opportunity to take back control of your future direction and keep focused on what you want in life.
This simple-to-apply, essential how-to guide, is inspired by positive psychology, with simplified, easily digestible, bite-sized evidence-based exercises for your own self-development, mental health and well-being. It can also be valuable for personal development or life coaches looking for inspiration or tools and concepts to use in their practice. The book is written in a way that is light, accessible and easy to understand, with stories, mind-blowing research and interesting facts to spark your curiosity. Each day you will learn a new topic and the author shares her personal favourite books on each topic if you are inspired to learn more.
In less than one month, you will increase awareness of yourself and the world around you, recognizing what drives your thoughts, feelings and behaviors through cognitive approaches, mindfulness practices and journaling. Your energy will soar with laughter yoga, walking in nature, practising gratitude and dancing to 'your song'. You will discover your power of influence through active listening, vocal connection, and appreciation of yourself and other people around you. In less than one month, you will have a full toolbox to identify your life's purpose and meaning, to be authentic and find your best possible self.
This is more than just a self-help book, in the right hands, it has the potential to change your life, teaching you straight-forward, easy strategies to help set tangible goals, build an effective morning routine, and know exactly what you want and how to get it. There are no excuses anymore, it is now time to approach life with full positive intention, be who you were always meant to be, and release your greatness for everyone to see.